Exclusive
Shaquille O'Neal Mistress Fiasco: It's Going To Trial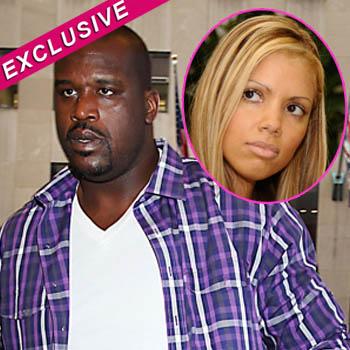 Article continues below advertisement
DOCUMENTS: Read Vanessa And Shaq's Notice For Trial
The former NBA center initially accused her of sleeping with someone else and when she broke off their relationship, she claims the threats began. Shaq tried to get the lawsuit dismissed, but was denied.
In the suit, Lopez claims she was the victim of a number of scary incidents -- most notably a threatening text that Shaq allegedly sent to a friend of his saying, "dis is da numba shut dat b*tch up!"
Lopez says the friend responded with a text saying, "consider it done famo."
The friend then jumped on a plane to Orlando, Florida, and allegedly texted Lopez before calling her on her cell, sounding "menacing and sinister."
"A trial date is very close to being scheduled as settlement talks aren't getting anywhere," a source close to the situation tells RadarOnline.com. "The trial date will likely be set in the next 30 days and the trial could start later this year. Shaq would be forced to take the stand and answer blistering questions from Vanessa's lawyers, Gloria Allred and Nathan Goldberg.
MORE ON:
Celebrity Justice
Article continues below advertisement
"Shaq wants to become the General Manager of the Orlando Magic and a public trial could very much harm his career and his legacy. Lopez's lawyers feel that there is more than enough evidence to convince a jury of the allegations that she has made against him."
Compounding matters, there's a motion filed by Lopez's attorneys to allow the trial to be televised.
"Vanessa wants the public to know exactly what Shaq did to her and she is looking forward to the day of taking the stand and telling a jury of her peers exactly what happened," the insider says. "She wants him to be treated just like anyone else, it's just about the truth, period."
In the papers, Lopez claims that Shaq's family was in on the intimidation act as well, making her fear for her safety.
Lopez, who's seeking unspecified damages, claims Shaq's 6-foot-6 and 6-foot-8 sisters made verbal and physical threats against her.
Gloria Allred issued the following statement to RadarOnline.com: "Shaq was unsuccessful in his efforts to get our case dismissed. We are continuing to aggresively litigate our case on behalf of Ms. Lopez and are looking forward to taking Shaq's deposition. We will proceed to do everything possible to protect our client's rights."