Shaquille O'Neal Earns His Doctorate Degree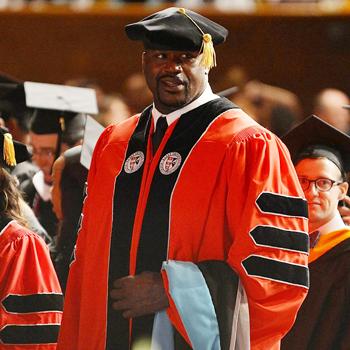 Just call him Dr. O'Neal! This was no honorary degree, it was the real thing when Shaquille O'Neal was awarded his doctorate Saturday at Florida's Barry University.
Wearing a custom-made, bright red XXXL-sized gown, the 7'1", 325 lb. former Miami Heat center had to get down on one knee so Dr. David M. Kopp could place the distinctive light blue hood around his big neck.
O'Neal returned the favor by picking up the the school president, to the cheers of the 1,100 in the audience.
Article continues below advertisement
The retired NBA superstar and college drop-out got serious about his education in 2000 when he returned to LSU to get his Bachelor's degree. Five years later he had his Master's through an online program.
Motivated to continue, Shaq then quietly enrolled at Barry and has spent the last four and a half years working on his Doctorate in organizational learning and leadership with a specialization in human resource development!