Exclusive
EXCLUSIVE: Second Lawsuit Accuses Shaquille O'Neal Of Computer Hacking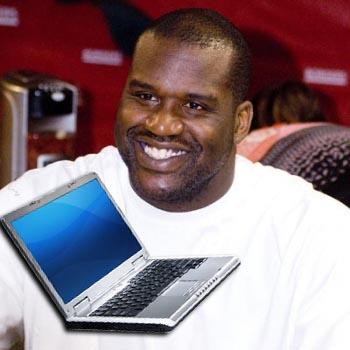 A second lawsuit has been filed accusing NBA star Shaquille O'Neal of computer hacking, RadarOnline.com has learned exclusively.
EXCLUSIVE DOCUMENTS: Read The New Lawsuit
Vanessa Lopez, Shaq's former mistress who sued the basketball star earlier this year for harassment, filed an amended lawsuit on September 17. In the new suit Lopez says Shaq hacked into her private accounts and that O'Neal's former employee Shawn Darling informed her about what the NBA star allegedly did.
Article continues below advertisement
It is the second lawsuit in weeks to claim that the NBA legend engaged in illegal hacking. Darling also sued O'Neal and charged that Shaq hacked into phone systems and even disposed of a computer with evidence by throwing it in a lake.
In her new lawsuit Lopez charges that Darling was instructed by Shaq to teach him how to:
hack into text messages of third parties
hack into recorded voicemails of third parties
monitor and record cellular phone calls of third parties
alter or assign 'fake' sender numbers on incoming phone calls to third parties through a technology called 'spoofing.'
cutting and pasting images to unrelated texts or emails to appear genuine.
As RadarOnline.com reported exclusively, Darling has filed his own lawsuit against O'Neal, accusing him of computer hacking, destroying evidence and attempting to frame him of criminal activity.
Lopez's amended lawsuit also names Justin Zormelo -- an associate of O'Neal she claims was hired by the basketball star -- to fly to Orlando, Florida, with the purpose of stalking and harassing her.
According to the suit, Darling warned Lopez that Zormelo and Shaq had texted back and forth and that Shaq hired Zormelo to fly to Orlando and stalk her.
"The caller, who identified himself as Justin, sounded menacing and sinister," the suit claims.
Article continues below advertisement
Shaq's lawyers have pointed out that Darling has an extensive criminal record. Darling has admitted that to RadarOnline.com and claims that is part of the reason why Shaq hired him.
From October 2009 to December, 2009 Lopez claims she received "excessive amounts of unfamiliar calls to her cell and hang up calls on her cell phone." During this time, she says Darling informed her and showed her proof that it was O'Neal behind it.
Lopez's amended lawsuit also overlaps with Darling's lawsuit, alleging, "Mr. Darling sought to expose O'Neal's misconduct by publishing private emails and text messages between the parties by providing them to the media and even demonstrated to Lopez how O'Neal successfully hacked into her text messages and voice mail."
The connection between Lopez and Darling could prove to be damaging to Shaq. Lopez's attorney, Gloria Allred declined to comment.