Exclusive
Michael Jackson's Former Doctor, Arnold Klein, Evicted From Home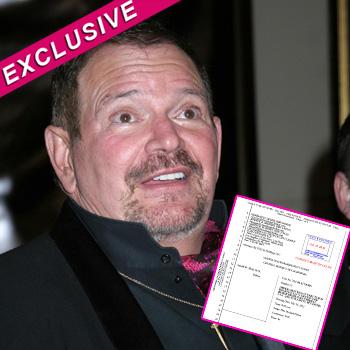 By Jen Heger - RadarOnline.com Assistant Managing Editor
Dr. Arnold Klein, has been formally ordered to be evicted from the swanky $60k a month Beverly Hills mansion in which he has been living in and not paying rent for, according to court documents obtained exclusively by RadarOnline.com.
"It is further ordered that the Debtor (Arnold Klein) shall vacate the Premises within 14 days of the date of entry of this order. It is further ordered that representatives of Arnold Klein and YLH (owner of the house) shall cooperate to take an inventory of the personal property at the Premises and survey the condition of the Premises on or before the date the Debtor vacates the Premises. Such inventory and the condition of the Premises may be recorded by video," the court docs state.
Article continues below advertisement
EXCLUSIVE DOCUMENTS: Dr. Arnold Klein Formally Evicted From Home For Not Paying Rent
As previously reported the company that owns the Beverly Hills estate Klein is currently living in, YLH 26 Holdings, had already requested that the judge lift a stay that prevents Dr. Klein from being evicted because he is in bankruptcy proceedings. Klein signed the lease on January 24, 2011, for a two month term at $60k a month, and after that it went from month-to-month. According to court documents, Klein allegedly stopped paying on April 1, 2012, and the landlord is responsible for paying the utilities.
The landlord began eviction proceedings, but according to the documents, "On or about May 1, 2012, YLH received a letter from Peter M. Lively who identified himself as Klein's bankruptcy counsel...The letter states that Klein is in Chapter 11 bankruptcy, which was filed on January 20, 2011, four days prior to entering into the Lease. This was the first time YLH was given notice of Klein's bankruptcy. The letter asserts that the automatic stay applies to prevent YLH from taking action to remove Klein from the property."
Article continues below advertisement
The company claims that the last rental check they received from Klein was only partial payment covering April 1-15, 2012, and he allegedly hasn't made any payments since then. Further causing distress to the homeowner - Klein's utility bill averages a whopping $6,832.11 a month, which Klein doesn't have to pay!
Dr. Klein is suing the California Medical Board, for ordering him to see a mental health professional and be tested for illegal drugs. Jackson's doctor to the stars is under investigation by the medical board because of large amounts of controlled substances that Klein gave the King of Pop.
On May 2, 2012, the California Medical Board ordered Klein to "undergo a physical examination, a mental examination, including psychological testing, and to submit to testing to detect the presence of scheduled and illicit drugs...the failure of Dr. Klein to comply with this Order shall constitute grounds for disciplinary action suspending or revoking his Physicians and Surgeon's certificate," the court order states.
Article continues below advertisement