Exclusive
Jermaine Jackson's Mea Culpa Contradicts Previous Statements About Family Drama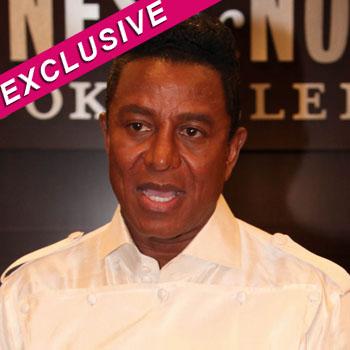 By Jen Heger - RadarOnline.com Assistant Managing Editor
Jermaine Jackson's public mea culpa to Michael Jackson's executors totally contradicts numerous statements he previously made about the latest family drama involving Katherine Jackson, RadarOnline.com is exclusively reporting.
In a letter sent to John Branca and John McClain, executors of Michael Jackson's estate, demanding their resignation, which was signed by Jermaine, Janet, Randy, Tito and Rebbie, they said their mother had suffered a "mini-stroke" because of stress allegedly caused by the two men. Jermaine also said on Twitter on July 19, "The truth is that Mother DID suffer a mini-stroke some months ago. She is fine now, but the timeline doesn't alter the fact it happened."
Article continues below advertisement
However, there was no mention of Katherine Jackson suffering a stroke in Jermaine's statement Wednesday. "As attorney Perry Sanders has since confirmed, a health check detected high blood pressure with Mother. Rest was the sole reason she went to Arizona," Jermaine said in reference to his mother's health.
Sanders previously told RadarOnline.com Katherine didn't suffer a mini-stroke or stroke. Jermaine also said that the reason Katherine went to the Arizona spa was for doctor-ordered rest, and said at the time, "Mother is safe and well in Arizona with her daughter and our sister, Rebbie, resting up on doctor's advice." There is no mention of any doctor ordering Katherine to rest in Jackson's statement though on Wednesday.
Jermaine admits in his latest comments, that Michael's three kids, who had been trying in vain to reach their grandmother while she was away, weren't being allowed to talk to her, despite previously insisting that no one was blocking Katherine from receiving their calls. Last week, Jermaine said, "No-one is being 'blocked' from speaking with Mother."
Wednesday's remarks from Jermaine though confirm Michael's children were unable to reach their grandmother. "When she was away, and with the children in the responsible care of Tito's son TJ, there was never a malicious attempt to 'block' the kids from talking with her. We simply worried that a call home would first entail, or lead to, conversations with individuals we are in dispute with and that would, therefore, increase pressure on Mother -- and pressure was what a doctor said she didn't need."
Article continues below advertisement
Jermaine says the reason for a visit to the Jackson family compound last week with siblings, Janet and Randy, was "to talk directly with the kids and merely discuss arrangements for them to meet with their grandmother. We were denied that access by security -- and it was clear that mutual suspicions had allowed events to spiral out of control."
However, CNN, who obtained security video of the Jackson family drama, which captured Janet trying to grab niece, Paris' cell phone, is reporting that the security team didn't interfere with the trio as they came onto the Calabassas property. "Security camera video did not show security guards interfering with Jermaine, Randy and Janet as they entered the Calabasas property. The video shows Prince and Paris initially greeting the visitors, but it quickly became a confrontation, according to witnesses," CNN's Alan Duke reports.
Jermaine Jackson also says he regrets signing the letter to the executors, which was leaked to the media. Brother, Tito, also publicly withdrew support for the letter.
Katherine Jackson lost custody of the children last week, and her grandson, TJ Jackson, was appointed temporary guardian. Katherine and TJ have formally petitioned the Court to become co-guardians of the children. Judge Mitchell Beckloff must formally sign off on the agreement in court on August 22.
Article continues below advertisement
Jermaine ends the statement by saying, "Mistakes have been made and irrational things have been said on both sides in a highly-charged emotional environment. It is time for us all to draw a line in the sand and move towards peace, co-operation, love and healing. I truly hope that we can find it in our hearts to do so. Because above and beyond anything else, what matters...is family."
RELATED STORIES: