Exclusive
Jermaine Extends Olive Branch To Michael Jackson's Executors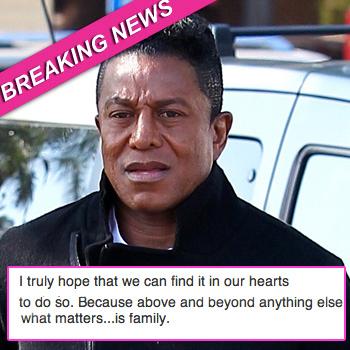 By Jen Heger - RadarOnline.com Assistant Managing Editor
Jermaine Jackson has formally extended an olive branch to Michael Jackson's executors, John Branca and John McClain, expressing his regret over signing a letter sent to them demanding their resignation, RadarOnline.com is reporting.
In a statement posted to Jermaine's Twitter account, he says, "After much soul-searching, it is clearly time for us to live by Michael's words about love not war. In this spirit, I offer this statement by way of extending an olive-branch. Accordingly, I rescind my signature from the letter which was sent to the Estate, and which should never have gone public. I still hold deep reservations about many issues involving the Estate, and I will continue to bring scrutiny and a resolute voice wherever we have cause for concern. But the way to address such matters is through the proper channels and via a private dialogue, not public conflict."
Article continues below advertisement
As previously reported, Randy Jackson was responsible for hatching a family plot to overthrow Michael Jackson's executors in an attempt to get his hands on part of the late King of Pop's estimated $1 billion fortune. A letter demanding the executors' resignation that was leaked to the media, was signed by Randy, Jermaine, Tito, Rebbie and Janet. Tito Jackson publicly said last week he also regretted signing the letter.
Jermaine also admits that Michael's three children, Prince, Paris and Blanket were unable to talk to their then legal guardian, Katherine Jackson while she was away in Arizona.
"When she was away, and with the children in the responsible care of Tito's son TJ, there was never a malicious attempt to 'block' the kids from talking with her. We simply worried that a call home would first entail, or lead to, conversations with individuals we are in dispute with and that would, therefore, increase pressure on Mother -- and pressure was what a doctor said she didn't need. This was why we went to the house in Calabasas to talk directly with the kids and merely discuss arrangements for them to meet with their grandmother. We were denied that access by security -- and it was clear that mutual suspicions had allowed events to spiral out of control. I regret that events were ever allowed to reach such a stage. I regret any distress caused to Prince, Paris and Blanket. That was never, ever the intention of myself, Janet, Rebbie or Randy. Moving forward, the most effective way to best serve Mother's welfare, and that of Michael's children, is to start a collective dialogue, in private," Jermaine revealed.
MORE ON:
Katherine Jackson
Article continues below advertisement
Katherine Jackson lost custody of the children last week, and her grandson, TJ Jackson, was appointed temporary guardian. Katherine and TJ have formally petitioned the Court to become co-guardians of the children. Judge Mitchell Beckloff must formally sign off on the agreement in court on August 22.
Jermaine ends the statement by saying, "Mistakes have been made and irrational things have been said on both sides in a highly-charged emotional environment. It is time for us all to draw a line in the sand and move towards peace, co-operation, love and healing. I truly hope that we can find it in our hearts to do so. Because above and beyond anything else, what matters...is family."