Exclusive
Diana Ross Will Sign Off On Michael Jackson's Kids New Custody Agreement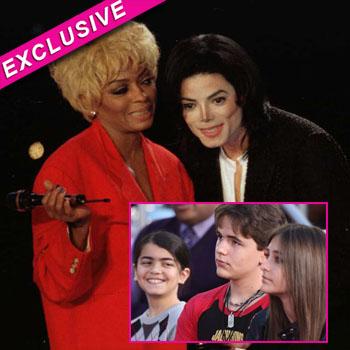 Article continues below advertisement
Michael Jackson's will stipulated that if his mother was unable to care for the children, Diana Ross was his next choice.
As RadarOnline.com previously reported, last week, Judge Mitchell Beckloff, stripped the Jackson family matriarch of her guardianship of the three children because no one could reach her for over a week. The judge said he made the ruling not because of any wrongdoing on Katherine's behalf, but because she had been prevented from fulfilling her guardianship duties by an "intentional act from third parties." Judge Beckloff told all parties while in court last week, that Diana Ross, and Debbie Rowe, mother of the two oldest children, needed to be provided notice of what was transpiring.
The children have been embroiled in a vicious family struggle for more than a week now as Randy, Jermaine and Janet Jackson battle over the late King of Pop's will, which they claim is fake. Michael's nephew TJ has been a constant presence in the children's lives and their attorney stated in court that they had no objections to him being appointed temporary guardian.
On Friday, it was announced that Katherine and TJ Jackson, would be petitioning to become co-guardians of the kids. The paperwork is expected to be submitted this week and the judge will have to sign off the proposed agreement.