Katherine Jackson: No Television, Cell Phone & iPad Taken Away While At Spa Last Week!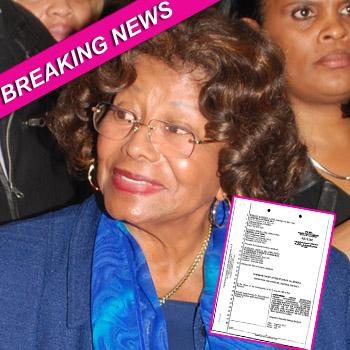 Article continues below advertisement
The Jackson family matriarch says a doctor was brought to the house on July 14, 2012, and "stating he had been in contact with my longtime personal physician and was coming to check on me because my personal physician was unavailable. The doctor advised that it was better for me to fly and not drive to New Mexico. Believing that the doctor was sent at the request of my longtime personal physician, I followed what I understood to be a doctor's orders and boarded a flight as opposed to driving in the motorhome."
Katherine says upon arrival at Miraval Spa in Tucson, Ariz. her cell phone was taken away, and "when one of the people asked if I could communicate with my iPad and I replied yes, my iPad was taken away. While there was a telephone in my room, the telephone was not functioning and I could not dial out. In addition, there was no picture on the television in my room.
"Despite repeated requests to those with me to have it fixed, the television was never fixed. One morning I woke up to the sound of the television. While there was no picture, I heard a broadcast that stated I was missing. I was also never told that my attorney, Perry Sanders, Jr. had flown to Tucson in an attempt to meet with me in person in attempts to find out what was going on."
Article continues below advertisement
Jermaine, Janet, Rebbie, and Randy Jackson were staying with their mother at the Miraval Spa.
"I was never informed that Prince, Blanket, and TJ were trying to reach me. Had I known that fact, and if I had been provided with the means to contact Prince, Paris, Blanket and TJ, I would never have gone for such a long period of time without communicating with them.
"While I was away, I had no reason to question whether the people with whom I placed trust would inform me that Prince, Paris, and Blanket were trying to reach me. The day before I was brought home from Tucson, I was finally permitted to use the phone to speak with Prince, Paris, Blanket and TJ."
Michael's mom supports her grandson, TJ, being named as co-guardian of the children, and asked the judge for permission to take the kids to Gary, Indiana, for a birthday celebration for the late King of Pop.
"TJ and I along with Prince, Paris, and Blanket are planning to travel out of California toward the end of August for a family function that will include a celebration involving the memory of my grandchildren's father, and my son, Michael. It is important that security planning and travel arrangements for the trip are made soon so that the trip can go forward."
Article continues below advertisement