Exclusive
Fran Drescher: She's Happily Divorced, Best Friends With Her Gay Ex, And Cancer-Free!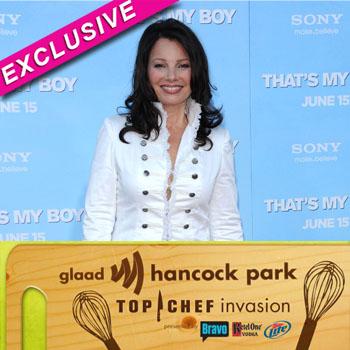 By Neil Woulfe - Radar Senior News Director
Fran Drescher is a true survivor – whether it's surviving divorce, surviving cancer, or surviving in show business.
This Sunday, July 29, America's favorite "Girl from Flushing" will be the Celebrity Host at GLAAD's annual signature food-themed event in Los Angeles.  This year, it's called Hancock Park Top Chef Invasion and it's being held at the private home of prominent L.A. attorney Dean Hansell, one of the pioneers of GLAAD, who co-founded the gay rights group and served as its co-president for three years.
Article continues below advertisement
The event -- a fundraiser for GLAAD -- will feature a BRAVO TopChef challenge, delicious tasting stations from incredible area high-end restaurants and caterers, entertainment, and an amazing food & wine-themed silent auction.
RadarOnline.com had the privilege of chatting with Fran about the event, her new hit show Happily Divorced on TVLand, her relationship with her ex-husband Peter Jacobson (who came out after their divorce) and her foundation, Cancer Schmancer.
Radar: Hi Fran! Thanks for taking some time to chat with us. First of all, tell us about the GLAAD Hancock Park Top Chef Invasion, for which you are the Celebrity Host.
Fran: The GLAAD Hancock Park: Top Chef invasion is going to be a lot of fun and will be a very positive and uplifting experience for a great cause that I fully support. If I can lend my celebrity to the GLAAD people to try and sell tickets, I am glad to do so!
Article continues below advertisement
Radar: The event will feature Top Chef: Texas Chef'testant Chris Crary and Top-Chef all-star Chef'testant Jamie Lauren. Are you a good cook, and if so, what's your best dish?
Fran: I consider myself a very good cook although I don't really like working from recipes; its usually too structured for me, as I like to express my creativity in my cooking. I enjoy simple, more Tuscan-style cuisine like soups and simple chicken and fish dishes, pastas and lots of veggies. Lately I have been eating vegan and gluten-free, so I have been making delicious Kale soup and gluten-free pasta with sautéed arugula, garlic, olive oil and pesto. I also like my recipe for white bean hummus as well as a good simple field and micro green salad with my special house dressing of olive oil, lemon, dijon mustard and salt and pepper. I like to add raw veggies to it like peas, corn, carrots, and zucchini.
Radar: Your ex, Peter, is the Event Chair for the GLAAD event. Both you and Peter have been extremely open about your ups-and-downs in your relationship. How is it different this time working with Peter on Happily Divorced, as opposed to The Nanny?
Fran: I am enjoying working with Peter tremendously on this project because we are far more evolved as human beings than we were when we began The Nanny. Our relationship is not nearly as complicated now, we both know ourselves better, we are both living authentic lives, we are bestfriends and we love each other dearly. Not to mention when we disagree we can take our space and not have to go home together!
Article continues below advertisement
Radar: How and when did Peter come out to you? What was your reaction?
Fran: Well I knew Peter was bisexual when we were still married and we divorced for what seemed like other issues; he had control issues and I found suffocating and I had my own problems of not putting myself in the equation, fear of being alone, and not really knowing who I was outside of the relationship. The combination gave me a very "garden-variety" mid-life crisis for which I really had to get out in order to redefine who I was outside of the relationship and be able to breathe easier withouthaving someone telling me what to do all the time.
Sexy Bisexuals! Hollywood Stars Who Go Both Ways
About a year and a half after we divorced, I was going on a book tour for Cancer Schamncer and he said to me, "I know you are going to be doing a lot of press and I don't want you to find out this way but, 'I am now dating men.'"
He didn't actually say he was gay but I knew what he meant. It was actually a relief to me because I was already dating someone else and I hadalready been a cancer survivor and I was harboring a lot of guilt about Peter due to him really not wanting me to leave him. I was glad at that point that he ended up finding what really made him happy.
Article continues below advertisement
Radar: Prior to Peter coming out, were you involved in any way in LGBT issues, or did his revelation and the ultimate rebuilding of your relationship play a role in your evolution into a true advocate for the gaycommunity?
Fran: I don't think having a gay ex-husband makes me more committed to gay civil liberties. I think that being a gay icon I havealways been very supportive of the gay community yet separate and apart from that, I am an activist and supporter of civil liberties for any minority whose rights are being compromised. It just always has seemed to be a part of my life working in show business and my life is fully integrated with the gay community in so many different ways that it's been a seamless involvement. I think that Peter coming out may have enhanced my presence within the gay community, but in reality it has not changed anything for me in terms of my sincerity for believing that it is a normal aspect of the human experience and deserves everything equal as with anyone and everyone else.
Neil Patrick Harris: Out Magazine's Love Issue Cover Boy
Radar: Have you found your gay fans to be especially loyal during your career?
Fran: Yes I have to say that I appreciated the loyal following that I have from the gay community and I try to never disappoint them giving them 150 percent and a lot of bang for their buck!
Radar: Do you think it's still risky for actors to come out – perhaps more so for action stars or romantic leads?
Article continues below advertisement
Fran: I do think it's risky to come out when you play, or are known for being a romantic lead in a opposite sex relationship. It's a personal choice; obviously it's better for the cause if you brave it and come out but I think that you are taking a risk and it's a double-edge sword. Until people start coming out, it's going to take longer for it to be considered as part of the norm, but at the same token, people's careers and livelihoods are at risk, so its a bit of a catch-22 in addition to it being a personal choice. Each individual situation is different and unique, but everyone deserves to be respected for whatever their decision may be.
Big Bang Theory's Jim Parsons Comes Out As Gay
Radar: This past March, you married your first same-sex couple! When did you become an ordained minister and what was the experience like?
Fran: I enjoyed being the minister for two same sex weddings and it was extremely touching and beautiful. Everyone was very moved and I feel that if my celebrity was able to bring focus to marriage equality than I am glad I did it, and one of the main reasons I wanted to do it. Thegreat thing was that it seemed so normal and so much like any other wedding I have attended. The exchange of vows and emotions and the love and affection was so touching I wish everyone could have been their and certainly all the doubtful people and "naysayers" in the world could have witnessed what we did that night; I would find it hard to believe that they couldn't see that this was a union that was meant to be.
Article continues below advertisement
Radar: In addition to gay causes, another issue close to your heart is cancer prevention. How long have you been cancer-free and tell us about your foundation Cancer  Schmancer.
R&B Singer Frank Ocean: I Was In A Same-Sex Relationship
Fran: I just celebrated my 12 years of wellness from uterine cancer and I started the Cancer Schmancer movement to engage Americans into realizing that they need to transform from patients into medical consumers. They need to know the early warning "whispers" of cancers that may affect them because, "If you catch it on arrival, 95 percent survival." They must be more educated on what tests are available because they may not even on the "menu" at the doctor's office. Everyone needs to  be more proactive, partners with your physician, and a medical consumer. You must ask a lot of questions and go in with a lot of "ammunition," and take control of your body! I advise everyone to become a part of the Cancer Schmancer movement and the huge launch of our new prevention program, "Trash Cancer." We will be having "Trash Cancer Parties" in homes across America where you throw a party with your friends and will receive a big "Trash Cancer Kit" that helps you to not only throw the party, but teach your friends and family how to detox your home. Our homes are the most toxic environment that we are in most often. Additionally, it is very important that we give a loud message to manufactures and elected officials that we are going to start choosing products that a carcinogen-free because 95 percent of most cancers are environmentally caused. We can begin to successfully reduce ourrisk of cancer by switching out products in our home and detoxing our home. It is time we clean up our act!
Radar: Finally, you've had so many great special guest stars on Happily Divorced, including Charles Shaughnessy and Renee Taylor. Any hints as to what we can expect on upcoming episodes of Happily Divorced?
Fran: In the new season, Fran gets proposed to and she will accept. There will then be a whole arc about planning the wedding but something happens that changes everything about halfway through the season. The change then spins everything in an entirely different direction that nobody expects!
Article continues below advertisement