Meet Filmmaker Graham Streeter: 'Being Creative Is What I Plan To Die Doing'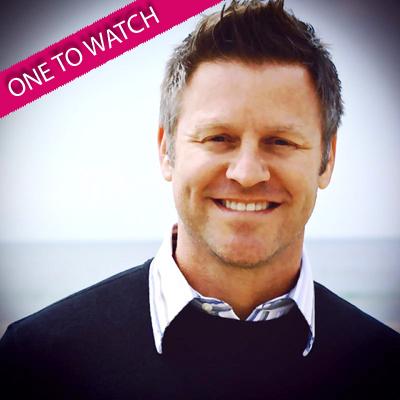 By Neil Woulfe - Radar Senior News Director
When you look at Graham Streeter, you probably would never guess he was once the host of a variety show in Japan or that his resume includes directing a groundbreaking Dave Koz music video or a credit called The Jolly Oyster -- and that's exactly why this multi-talented and dashing Los Angeles-based filmmaker has landed on Radar's "One To Watch" list.
Radar: You're a California kid, but when you were 16, you moved to Japan for what was supposed to be one year, but you ended up staying for 10. Why did you originally move to Japan, and why did you stay so long?
Article continues below advertisement
Graham: My mother and father had relations in Japan, so it was an opportunity to visit a foreign country for the summer, and live with a family they trusted. Summer turned into several semesters in school there, but I came back and finished U.S. high school in my hometown.
Radar: While you were in Japan, you co-hosted a variety show with two women. How did you land that gig and what was that experience like?
Graham: My summer jobs helped me pick up the language pretty quick. Quick enough to get on a TV variety show through a family connection. That lasted three years, and it taught me a lot about live-recorded television, and the amount of coordination and planning that it takes to make a show really work. It was my first glimpse into directing and I thought someday, I would like that job.
Radar: The Japanese culture is known for being more reserved, more reverent than the American culture. How did spending so many years in Japan shape you both personally and professionally?
Article continues below advertisement
Graham: While I was there I learned to blend in. In America, the phrase "Just do it" is truly the American Western way. In Japan, they have a phrase: "The highest nail gets pounded the hardest." But after 10 years living there, my American blood was at least asking for a compromise. That's probably why I moved back in the end.
Radar: After you returned to the U.S. at the age of 26, you earned a double degree in international business and Japanese at California State University in Sacramento. Your close ties to the Japanese culture led you to become an international correspondent for a Japanese network based in the U.S. -- tell me about that experience.
Graham: It was a perfect combination for me. I could enjoy work ethics of the Japanese while still enjoying the American life. As for production, one can argue that the Japanese way is full of inefficiencies, but then again, the American way is full of inefficiencies too, just in different ways. The biggest plus I had was that I could operate like a Japanese in the day and an American at night.
Radar: In addition to reporting in front of the camera, you also worked for Japanese television behind the scenes directing motor sports programming. Had you wanted to work behind the camera?
Article continues below advertisement
Graham: The Nippon Television Broadcast Network had international bureaus all over the world. I landed work in Los Angeles, and with all the international coverage being piped back to Japan, sports is a big ticket item. When the network started covering open wheel racing like IRL and Indy Racing League, I was the middleman who could both run a TV crew and connect with the team PR and drivers. So I was producing and coordinating production, but often found myself in front of the camera again just to translate. But that translation became part of the show. I went full circle and was back on TV.
Radar: From directing television, you made the leap into directing film. Tell me about your first independent feature Ages, which you also wrote.
Graham: On the off days, I would convince my video teams to help me make short narratives. Those narratives helped me get work doing commercials. The commercials gave me the confidence to do longer format feature length work. It was a gradual progression from in front of the camera to behind, from news to features. And every step was invaluable to what I've become today.
Article continues below advertisement
Radar: How did you raise the $500,000 budget for the film?
Graham: The only thing I can say is, we were lucky. I remember telling all our potential investors in a meeting, "Worst case scenario, the film never sees the light of day and you lose all your investment." That, along with a really compelling presentation about why the film could do well, was a formula that told investors the whole scenario. We were only talking to people who had money to burn, not because they were looking or a return. In the end, we compiled investors form several continents. Ten in total.
Radar: You've also worked on some interesting shorts on a variety of topics. Tell me about The Jolly Oyster.
Graham: I met a man who was starting up an Oyster business in Ventura. He had seen or heard of me because I did a lot of the city of Ventura's videos for tourism. It's a good example of what a video looks like when you are the producer, camera operator, director and editor. I learned so much and had a great time. Moreover, it was a great result.
Article continues below advertisement
Radar: I understand right now you're nurturing several scripts. Can you give us a hint what you are working on?
Graham: I have three screenplays ready to go. Normal Folk, The Month of April and Unpeaceable. They're all very different, ranging in level of concept to budget. Is that a good enough hint? Laughs
Radar: In addition to film, you also direct music videos: tell me about the video you recently did with Grammy nominee Dave Koz, in the name of marriage equality.
Graham: Yeah, Dave Koz is a cool cat. A good friend and we've worked together on smooth jazz projects before. But he was debuting his new album Hello Tomorrow and wanted to do a music video with me for one of the songs. I listened to the album and the song, This Guy's in Love with You, just screamed video. I put a little twist on it, and it went viral pretty quick. NBC did news stories on it and there's been endless chatter on the Internet ever since.
Article continues below advertisement
Radar: Your dad was an art teacher, and painting is close to your heart also. Tell me about your series, Intersections of Los Angeles.
Graham: While other kids were playing softball or basketball, I spent my summers with my dad in the art studio. He was an art teacher. Maybe I was his guinea pig. I did every art project possible and I was in awe of my father's talent to draw. I took that experience and kept painting and creating. But luck have it, technology was progressing and I became involved in photographer, and then eventually video. I guess you can say I went from drawing static pictures to directing motion pictures.
Radar: Finally, with so much going on, where do you see yourself in five-to-10 years?
Graham: I see myself retired in 10. Don't get me wrong. I wanna be working hard making movies, documentaries, music videos. By retire, I mean I don't wanna be working for the money, I wanna work for the love. Me and my other half think about starting a bed and breakfast so we can enjoy an income, great company, cooking, dining and socializing when we're not being creative and self absorbed in our art. Being creative is what I plan to die doing.