Exclusive
Actor/Writer David W. Ross: From Boy Band Heartthrob To Saying 'I Do'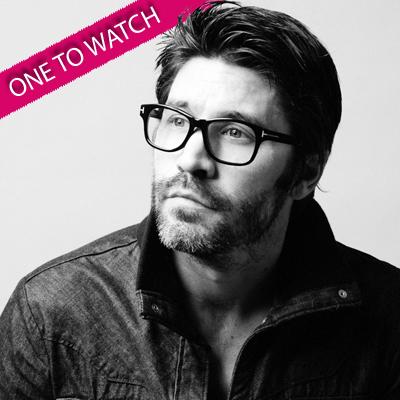 By Neil Woulfe - RadarOnline.com Senior News Director
David W. Ross has come a long way from his days as a teen heartthrob while a member of the chart-topping British boy band, Bad Boys, Inc. -- and that's why he's on RadarOnline.com's One To Watch list.
Born in rural England, this handsome out actor/producer/writer is now living his dream in Los Angeles, and using his talents to promote issues close to his heart, like marriage equality.
Article continues below advertisement
Among David's many impressive credits -- he starred in the 2006 Sundance Film Festival breakout hit film Quinceañera, which won both the Audience Award and Grand Jury Prize. It was also selected to play at the 2006 Berlin Film Festival and won the 2007 Independent Spirit John Cassavetes Award.
RadarOnline.com talked with this multi-talented artist about his latest passion project: his new film, I Do, which he not only wrote, but stars in opposite Jamie-Lynn Sigler, best known for her work on The Sopranos and for playing Turtle's girlfriend on Entourage.
RadarOnline.com: I Do is certainly a timely topic, especially with this being an election year. Describe the plot.
David: Jack's a British gay man living in New York, raising his niece with his sister-in-law. When his green card marriage goes horribly wrong, because he can't marry the man he loves to stay in the country, he has to make an impossible choice.
RadarOnline.com: You've got a great cast. In addition to yourself, Jamie-Lynn Sigler stars in the film. How did you land her and what was it like working with her?
Article continues below advertisement
David: She's a total sweetheart! I loved working with her. She has so much experience, and I felt very supported by her and the rest of the cast. As I had several roles in the making of the film, I had a lot on my mind, but she just brings this really grounded, lovely energy to everything, so when it came time to do our scenes, it was effortless.
I had raised money on Kickstarter last May, and my agent realized I meant business. He sent the script to Jamie-Lynn's agents, and before I knew it, Jamie-Lynn and I were having coffee talking about the script. I had a blast with Alicia Witt too. Another incredible actor with years of experience. They're my girls! LOL
Director Elliot London: The Traumatic Teenage Experience Behind My New Movie FRIEND
RadarOnline.com: You've described I Do as a passion project, and in addition to acting in the film, you also wrote the script. What inspired you to make this film?
David: The script was a long time coming. I had noodled with the idea for a few years. I had a bad breakup with someone who couldn't get their paperwork to stay in the U.S., and I thought that was an interesting question to pose. How far would you go for love? But it was photographing the Prop 8 rallies and hearing about the lack of Federal level rights that really shaped the script.
Article continues below advertisement
If you're straight and in love with someone from another country, you can get married and that very day sponsor your spouse's green card. If you're gay, even if you've been married for years, you can't. Immigration is one of over 1,300 Federal level rights you don't get in a gay marriage as gay marriage is only on a state level. It's heartbreaking. It's ripping families apart. It means people have to make impossible choices to be with the people they love. That's the story I wanted to tell, and I lost a lot of sleep over it.
The Most Surprising 3-Minute Wedding You'll Ever See!
RadarOnline.com: You must have met a lot of couples while photographing those Prop 8 rallies. Do any of the people you met -- their personal stories -- still resonate in your mind?
David: My now good friend Judy Rickard and her partner, Karin. They've been fighting for Karin to be able to stay in the country for years. It's been this epic struggle for them financially, emotionally. I don't think people really stop to think about what it would be like to fall in love with someone from another country and then not have the ability to have them live here. They imagine it to be, maybe romantic. Trips to Europe. Romantic weekends in Buenos Aires. But it's not romantic when you have to retire early, or use your life savings to be with the person you love, because the law prevents you from being together. Their love for each other, to be together no matter what, is an inspiration for us all.
Article continues below advertisement
Jesse Brune Has Redefined His Life – And You Can Too
RadarOnline.com: Why do you think so many people are frightened of marriage equality?
David: I have no idea why people are frightened of marriage equality. If someone gets married it doesn't affect my relationship at all -- I'm not affected if you decide you want a family. It's lunacy to think that what someone else does in their personal life will affect yours. But I also understand that marriage is sacred to some people and they feel very strongly about it being between one man and one woman. It's epically complicated and emotional for people on all sides. I've been fascinated by the history of marriage since writing this film. It's been quite an eye opener to read about its long trek to 2012.
Meet Filmmaker Graham Streeter
RadarOnline.com: So far, six states and the District of Columbia have recognized same-sex marriage, and more states are likely to follow. You must be heartened to see such progress in your lifetime.
David: It's amazing. Every day it seems I'm reading about a new bill being passed. But there's still a long way to go. DOMA is the law that bars same-sex couples Federal level rights, and it seems like that is really being tested right now.
Article continues below advertisement
RadarOnline.com: You now live as an out proud man, but you came out only last year in your 30s. Why did you wait so long?
David: I simply wasn't ready.
RadarOnline.com: Was there something that triggered your decision to come out?
David: I just had this revelation about what the movie was about and knew it was the right thing for me to do.
RadarOnline.com: Did you worry that coming out would hurt your career?
David: Absolutely. I still worry about that. In Hollywood, it's an unspoken thing that if you're out, you won't work. Seems like that's changing. For established actors, anyway.
RadarOnline.com: Looking back, do you regret not coming out sooner, or do you feel you needed to be ready?
David: I don't know. there are bigger things in life than a career on camera. But I felt, as I think a lot of people do, a real sense of fear that I'd never be able to follow my dreams being out. it seems a little silly to me now, but it was a real fear for a very long time.
Article continues below advertisement
RadarOnline.com: Now, back to the movie: You shot I Do last fall, but you still need money to complete the project. What do you need?
David: We basically need finishing funds. On indiegogo we're asking for $25,000, but we really need about $50,000. I'm new to this, but being a photographer, I know there's a lot of tweaking that needs to be done to an image. The same in movies. We need to do a lot of technical stuff, like sound, color, SFX. Sadly there's no budget to photoshop my face in every frame! LOL
RadarOnline.com: What, if any perks do people receive who make donations to the project?
David: At $25 you get a DVD of the finished film and then it goes all the way up to a dinner date with me and the cast and an associate producer credit for $5,000. That's huge! You'd be a producer on a real movie AND you can show everyone your credit on IMDb.
RadarOnline.com: You have an interesting background, including a stint as a member of a British boy band. What did you land that gig?
Article continues below advertisement
David: I was spotted by the band's photographer (Yes there was a photographer before there was a band! LOL) and he thought I had a good look, and within a week, I had signed a deal with the producer. Within a month or two, we were on the cover of teen magazines. It happened too easily. I've always felt ashamed of not having to work my ass off for it. I feel I've finally earned my place with this movie. It certainly didn't happen overnight!
Meet Hollywood Hottie Jesse Brune
RadarOnline.com: You must have had some crazy experiences while touring. Any particular incidents stand out?
David: I think my favorite was being smuggled into my house via the trunk of the car. We had girls literally living outside of our houses. If we wanted some privacy, we'd jump in the trunk so they wouldn't know we were home. That and crawling on our hands and knees through security guards legs to get into a limo because we got rushed by about 10,000 fans at a concert where the barrier collapsed ... good times!
Article continues below advertisement
RadarOnline.com: Finally, with all you've accomplished, where would you like to be professionally in the next 5-to-ten years?
David: I wrote the film so I could land a leading role! LOL And that's where I'd like to be. I've been writing my whole life, so that's not going away, but I'd love to work with more brilliant artists and have the opportunity to tell more stories that change people's minds about the human experience. Or play a super hero. Either or :)