The Art of Being Thomas Burns – And Why He's 'One To Watch'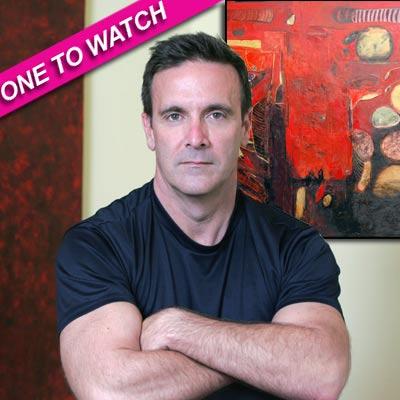 By Neil Woulfe - Radar Senior News Director
Thomas Burns is a true culture warrior, and that's why he's landed on Radar's "One To Watch' list.
The charming Chicago-area native, who now calls Southern California home, is a fierce advocate of the arts -- whether it be painting, film, music, or photography.
When Tom's not promoting the artwork of others through his tireless work with the Carmel Art & Film Festival -- an organization he founded -- he's likely to be creating art himself.
Article continues below advertisement
A prolific painter, Tom has devoted his life to making the world a more beautiful place.
RadarOnline.com had the pleasure of chatting with Tom about the arts -- and the art of making a difference.
Radar: Were you always passionate about the arts, even as a kid, growing up in suburban Chicago?
Tom: As long as I can remember, I have always had a studio space. I grew up in one of those old suburban houses that had a walk-up attic. As a seven-year-old, I had my studio up there. My first commercial venture was making clay mushrooms "sculptures." My mother's friend had a bookstore in town that took a few of them to sell for me. I think I made 75 cents. My mother has never admitted it, but I am sure she was the one who bought them. In hindsight, it was the trigger that made me realize there was a value in my creativity.
Radar: Did you study art in school?
Tom: I started out as an art major, but my dad really wanted me to be business major. He was paying for my education, so I felt kind-of obligated to switch. I have never regretted it. I ended up with a BA in Marketing. I am this weird combination of artist/creative/freethinker with a business sense.
Radar: You are the founder of the Carmel Art & Film Festival, now in its fourth year. Tell me about the festival and its purpose.
Article continues below advertisement
Tom: For five days in October we take over the town of Carmel-by-the-Sea. We showcase the best of independent cinema and contemporary art, music and photography from around the globe. John Cooper, the director of the Sundance Film Festival, helped us our first year with securing two films: Precious and September Issue. Since then, he has remained on our board. The mission is to give filmmakers an opportunity to show their work – and ultimately get it sold. We know that a lot of the filmmakers have put EVERY last dime into their film, so when they are here, we treat them like royalty. Last year's most popular event was our filmmakers' dinner on the beach. We carved out 15 fire pits each serving 15 people as their own dinning space – supplied with blankets, food, wine and s'more kits. Afterward, at a different location on the beach, we host a Pixar retrospective of shorts for about 800 people. It's an experience and memory that I am proud to be part of.
Radar: Through the festival, I'm sure you've met some amazing people, including many famous stars. Any favorite memories?
Tom: Clint Eastwood is our most known local. The dude is just damn cool. Most celebrities are just normal, fun people. It's the entourage that can be a bit trying. You have the managers, the agents, the PR person, the personal assistants – all making demands. I am usually a pretty nice guy, but when the assistant to the hair & make-up person starts making requests – I tend to put my foot down. Clint on the other hand, shows up by himself, does his thing, makes his appearance, and then quietly slips away. When the biggest name in Hollywood does that – it's cool. Two years ago we created the Clint Eastwood Filmmakers Award. The award was created to give Clint and Dina Eastwood a wide latitude in deciding the winner. It can be given to an actor, producer, director – whoever catches the attention of Clint and Dina that year. To see a filmmaker get handed an award from Clint always brings a smile to my face.
Article continues below advertisement
Radar: In addition to celebrating and showcasing the art of others, you're an artist yourself. Describe your paintings and where people can find your work.
Tom: In the literal sense, I paint large abstract, oil on canvas paintings. On an esoteric level, I paint an interpretation of my perception of a thought. Can I say here, I hate "art speak." Let's just say, I paint. Most of my canvases have at least, if not more than, two paintings underneath the final work. I use a lot of paint and many layers – much like life itself. It's like meeting a person for the first time. There is some emotional attraction that makes you want to get to know someone. Then when you do, you usually find that there is a lot more to someone than what's on the surface. Of course, once in a while, you meet someone and there is NOTHING going on below the surface! That canvas would NEVER leave my studio.
On a personal note, my work is shown at the Winfield Gallery in Carmel, and I am currently looking to add a Los Angeles gallery as well.
Radar: When you create art, what inspires you?
Tom: I'll take my inspiration from anywhere. I always look at nature to find an example in perfect balance. You can look at a bird for color combinations; landscape can show perfect balance in form and shape. I look at other artists work. Sometimes, when I am stuck in the middle of a painting, I'll go to a gallery and look at an artist work in a completely different style than mine and see how they used a shape or color and that will trigger something in my head. I have been known to sit in my studio and stare at a blank canvas for hours (not drug-induced) and never pick up a paintbrush. But once I start painting, I tend to let all of those preconceived thoughts and ideas go. I try to let my subconscious mind kick in and take over. I don't think I have EVER finished a painting that was even remotely close to what the original idea was in my head. The process of covering up and revealing while painting is a constant surprise.
Article continues below advertisement
Radar: In 2004, you launched a magazine called ARTWORKS. According to its web site, the publication's mission is to provide "a voice for the arts, striving to give artists a platform to share their stories and their art with a wide audience." Tell me more about it.
Tom: ARTWORKS has been a passion of mine. The mission was twofold. First, I was tired of the art magazines that were available that seemed to be written by art critics FOR art critics. I would catch myself rereading the same paragraph a number of times and STILL not understand what the writer was saying. So I hired free-lance journalists with little or no background in art. "You are good at telling stories; tell me the artist's story." I didn't want our writers to tell our readers whether they should like an artist's work or not, I just wanted them to tell the artist story and let the reader decide. The second part, at the time, I felt as if West Coast was being ignored by the art world. The art I was seeing on the West Coast was impressive and important. I wanted to give artists a platform.
Radar: In this economy, too often school districts are cutting back on arts program to save money. What are your feelings about that?
Tom: It actually hurts me when I hear about an art program being cut. I am fearful that we are just raising a bunch of test-takers. Art has taught me how to look at things differently – or at least from a different perspective. We are all artists. We all create things. Some people create businesses, some create education, some sport. There is art in everything. Unfortunately, our government makes decision that I don't agree with sometimes. With the elimination of so many art programs, the responsibility of supporting the arts in our children's lives will have to rest with the parents. We started a scholarship fund with the film festival a couple of years ago. Last year we handed out 4 scholarships for $10,000. It's a small amount to start. One day, I hope I can walk into a school and write a check for six figures and say, "Here, this is for your art department!"
Article continues below advertisement
Radar: Right now, you live in Carmel. California – one of the most beautiful places in the world. But you're planning on re-locating to crazy L.A. Why the move?
Tom: I hate sounding like a flake, but it's the creative energy that I am surrounded by when I am in L.A. I love being in the epicenter of creativity. Film is one of those ultimate convergences of all of the arts. As jaded as a city can be, you have all of these people coming together, that the core objective is to create something good enough for the world to see. That's so attractive to me … maybe that's a too idealistic and naive way to think, but it's what I choose to believe. I know, L.A. is not for everyone, but it has a style that I feel comfortable with. I feel at home.