Exclusive
Sexual Assault Crisis Group Slams Daniel Tosh, 'Rape Jokes Are Never Funny'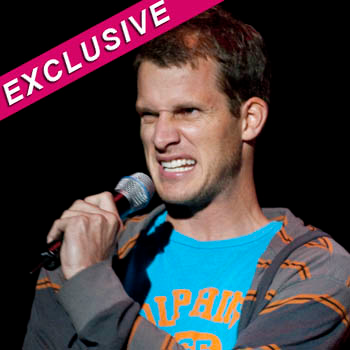 By Debbie Emery - Radar Reporter
The disgust at comedian Daniel Tosh's joke about rape during a stand up act has escalated since his performance last Friday night, and RadarOnline.com has exclusive insight from a crisis support group explaining why his actions had such wide-reaching outrage.
"When you look in a room full of people at a Daniel Tosh show, the chances are one of them has been a victim of rape and they are being affected by what he says and the laughter, so its more impactful than you think,"  Rick Gipprich Jr., Communications Director of the Texas Association Against Sexual Assault, told RadarOnline.com in an exclusive interview.
Article continues below advertisement
As RadarOnline.com previously reported, the Comedy Central star has now apologized for the offensive joke he made toward a female audience member during a gig at The Laugh Factory in Hollywood.
"Tosh (started) making some very generalizing, declarative statements about rape jokes always being funny, how can a rape joke not be funny, rape is hilarious," an audience member complained about the incident on Tumblr.
"Did he mean it intentionally, probably not? But we should never try to get a laugh at the expense of a rape victim because it is never funny. What he did was highly inappropriate," said Gipprich.
He went on to reveal that it is not the first time the comedian has made off-the-wall comments about sexual assault or date rape and there have been a number of references on his show Tosh.O.
"He is very tongue in cheek and uses a sarcastic and witty humor, it is part of his style, but regardless, it is not funny and these are the kinds of things we battle every single day.
Article continues below advertisement
"When one person jokes about an issue like rape or domestic violence it makes it kind of OK for other people to do it as well," he explained. "If you start normalizing really horrible and violent things that have happened to women and children then it makes us almost desensitized to it when people actually report it.
"It is a very impactful thing and I think those consequences are unintentional but it happens every day.
"Statistics show that one in five women will be sexually assaulted at least once in their lifetime, making it likely that everyone single one of us knows at least one person in our lives who is a survivor, whether we are aware of it or not."
Tosh has been berated by angry Twitter messages since last week's show, and Gipprich warned that the negative reaction may escalate. "There is a backlash with these things - people get offended, stop watching your show, or they ask for their money back," he said.
Article continues below advertisement
The comedian addressed the incident on his own Twitter page Tuesday, writing, "all the out of context misquotes aside, i'd like to sincerely apologize … the point i was making before i was heckled is there are awful things in the world but you can still make jokes about them."
However, Gipprich doesn't know how deep-rooted the apology is. "I think his apology is acceptable. What I don't know is if he was truly impacted by their reaction," he told Radar.