Todd Bridges And Corey Feldman Backing Bill To Protect Child Actors From Sexual Predators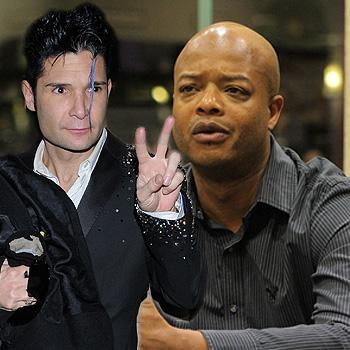 By Debbie Emery - RadarOnline.com Reporter
Their lives have been rollercoaster rides with highs of fame and financial success, and lows of drug abuse and destitution, but former child stars Todd Bridges and Corey Feldman haven't forgotten what it is like to be a kid in Hollywood, and all the dangers that it entails.
Both the Diff'rent Strokes regular and The Goonies star have recently revealed dark secrets about how they were molested as youths by older men in positions of power - traumatic experiences that led to their ultimate downward spiral into addiction - and now they are pairing up to back a new bill to stop it from happening to other young aspiring actors, reported the Los Angeles Times.
Article continues below advertisement
"We're not doing enough to protect children, period," said Bridges, 46, in support of the bill, which would require talent managers, photographers and others whose jobs involve unsupervised access to child performers to provide fingerprints and submit to criminal background checks. It also would prohibit registered sex offenders from representing artists who are minors.
"I cannot imagine why even one politician would object to it passing," he went on to say. "Without these types of precautions, Hollywood will continue to attract pedophiles with an unmonitored playing field to commit their inhumane acts."
The campaign comes in light of a number of recent sex scandals and criminal investigations invovling men of power in the entertainment industry.
As RadarOnline.com previously reported, last November long-term talent manager Martin Weiss, who specialized in representing young actors, was arrested for molesting a teenage client.
The victim, who is an aspiring singer and musician, may be just one of many that the 47-year-old alleged pedophile from Santa Monica, Calif., could have abused, police suspect.
Article continues below advertisement
In December, a Hollywood casting agent who had worked with children on Hollywood blockbusters such as Super 8 - despite a past conviction of child abuse - was arrested on suspicion of violating the sexual offender laws, reported RadarOnline.com. Jason James Murphy was charged by Los Angeles prosecutors with failing to file a name change and a change of address and therefore not being listed on the Megan's Law registry despite being a convicted sex offender.
MORE ON:
hollywood happenings
Lost Boys star Feldman, now 40, recently opened up about the sexual abuse he endured at the hands of a man associated with his father's child talent business, who plied him with drugs and alcohol, showed him a pornographic magazine and molested him.
"I didn't know how to tell him 'Stop' or 'Don't do it,' or I couldn't face it, I was too afraid," Feldman said of the repeated abuse that went on from the age of 14 to 16, when he finally had the courage to stand up to his predator.
Article continues below advertisement
"I was able to actually confront him in broad daylight, awake and aware, and say, 'If you ever … touch me again, I will kill you,'" he revealed.
Now Corey feels motivated to help other victims, including the boy who was allegedly abused by Weiss. "I'm not doing this for any self-seeking motive," he said. "I'm doing this because I want to support this kid."
The man who allegedly abused Bridges in his younger years is described as a musician and gospel singer who claimed to have worked for Michael Jackson's family, Todd wrote in his autobiography, Killing Willis. The man "seduced" the 12-year-old actor by spending time with him and giving him gifts — and molested him three times over the course of a year.