Exclusive
EXCLUSIVE DETAILS: Ashley Judd's Painful Past: Rape & Drug Ordeal Revealed In Shocking Memoir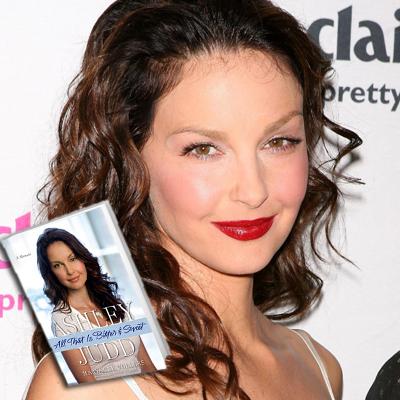 In a shocking memoir, actress Ashley Judd has detailed her childhood years filled with lies, pain and sexual abuse, and RadarOnline.com has an exclusive sneak peek into the book that hits shelves on Tuesday, April 5.
"My mother, while she was transforming herself into the country legend Naomi Judd, created an origin myth for the Judds that did not match my reality," Ashley writes in the new memoir titled All That Is Bitter & Sweet.
Article continues below advertisement
"She and my sister Wynonna have been quoted as saying that our family put the 'fun' in dysfunction. I wondered: 'Who, exactly, was having all the fun? What was I missing?'"
Ashley reveals that although her mother led her father, Michael Ciminella, on to believe he was the father of Wynonna, it was actually another man, Charlie Jordan, who was the father and upon hearing of the pregnancy he wanted nothing to do with it.
The 42-year-old Kentucky native said that "there was always marijuana inside the house" and that her dad "was prone to taking hallucinogenics with friends on Saturday nights.
When she was a toddler, her parent's marriage dissolved, and Naomi had a new man move in with them who Ashley describes as an "abusive full-blown heroin addict with a criminal record."
"I was taught to believe that our lifestyle was normal and never to question it or complain, even when I was left alone for hours, sometimes days at a time, or when I was passed without warning to yet another relative," Ashley wrote.
Article continues below advertisement
"I loved my mother, but at the same time I dreaded the mayhem and uncertainty that followed her everywhere...I often felt like an outsider observing my mom's life as she followed her own dreams."
Sadly, Ashley recounts an experience with sexual abuse which later lead her into a deep depression.
"An old man everyone knew beckoned me into a dark, empty corner of the business and offered me a quarter for the pinball machine at the pizza place if I'd sit on his lap," Ashley said.
"He opened his arms, I climbed up, and I was shocked when he suddenly cinched his arms around me, squeezing me and smothering my mouth with his, jabbing his tongue deep into my mouth."
Check back with RadarOnline.com as we reveal more dark family secrets within Ashley's memoir.
Visit msnbc.com for breaking news, world news, and news about the economy
RELATED STORIES: