Exclusive
EXCLUSIVE: Emilio Estevez And Martin Sheen Memoir Will Not Feature Charlie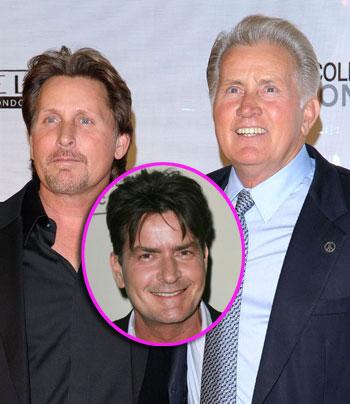 It would be one way to guarantee a sure fire bestseller – but RadarOnline.com has learned that Emilio Estevez and Martin Sheen's upcoming memoir will not include any mention of their hellraising brother/son, Charlie Sheen.
Instead, while the Two And A Half Men star's life continues to unravel at an alarming rate amid frequent hooker and cocaine binges, the co-written tome, Along The Way, will concentrate solely on Emilio and Martin's close father/son relationship through the years and will celebrate the 'profound bond' between the two actors.
Article continues below advertisement
A spokesperson for the book's publisher Free Press told RadarOnline.com: "Charlie is not participating in the book.
"It will give candid insights into the actors' lives and relationship and tell of their individual search for faith."
It had been rumored that Charlie's famous father Martin was considering doing an intervention into his wayward son's life so that he can get treatment for drug and alcohol abuse.
The 70-year-old actor first staged a major intervention for Charlie in 1990 forcing him to enter rehab but in recent times he has remained tight-lipped about his antics.
Meanwhile, Charlie's younger brother, Emilio, lives a much quieter life than his sibling transforming from an actor to director in recent years.
Estevez, who lives in Malibu, is an environmentalist and political activist just like his father and their book will touch on these topics as well as their relationship.
Article continues below advertisement
He said: "I'm so happy to be working on this unique project with my father - we're both fathers of sons... neighbors and activists."
The pair recently collaborated on the film The Way, which Estevez directed and Sheen appeared in as Estevez's father.
In the film, Sheen plays a man who walks a thousand-year-old pilgrimage path in Spain in his late son's honor.
Estevez added: "We hope that our story will communicate an essential message for our times - film is an illusion. Fame is ephemeral. Faith and family are what endure."