Exclusive
Man Files Complaint Against Sylvester Stallone's Sister; Claims She Was Sexually Abused By Family Member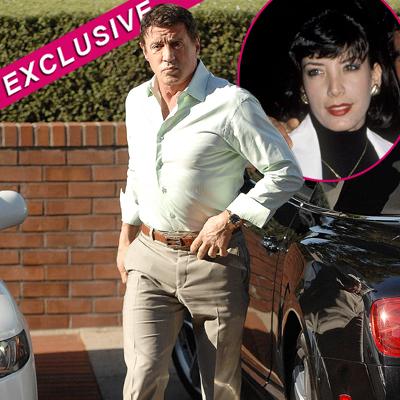 RadarOnline.com Assistant Managing Editor
Kenneth Chiaramonte, a one-time friend of Sylvester Stallone's extended family, has filed paperwork against the actor's half-sister, Toni Ann Filiti, claiming he was wrongfully terminated. He's also making shocking allegations of prescription pill misuse and familial sexual abuse, RadarOnline.com is exclusively reporting.
According to reports, Toni Ann, also known as Toni Ann D'Alto, was diagnosed with lung cancer and is now living with her mother, Jackie Stallone, in Beverly Hills. Toni Ann and Sly have the same mother.
Article continues below advertisement
EXCLUSIVE DOCUMENTS: Read The Shocking Allegations Contained In Complaint Against Sylvester Stallone's Sister
The pre-complaint questionnaire, obtained exclusively by RadarOnline.com, states: "At the commencement of the contract and continuing thereafter, Toni Ann Filiti promised Kenneth Chiaramonte that their relationship was long-term, based upon friendship and would continue indefinitely. Toni Ann Filiti made these promises in an order to induce Kenneth Chiramonte to abandon his previous career as a successful real estate agent. Toni Ann Filiti further made these promises to induce Kenneth Chiaramonte to move into her residence and to move his mother into her residence."
The documents claim that Chiaramonte began working for Toni Ann in April 2010, was making $4,000 a month plus benefits and was terminated on August 28, 2011 for "refusal to engage in unlawful conduct."
The complaint alleges, "Chiaramonte refused to facilitate narcotics consumption by Toni Ann Filiti, nor would he facilitate her obtaining a narcotics prescription from a physician once he came to believe that the prescription was not warranted by any genuine medical condition....the continued drug abuse, refusal to obtain treatment for the long-term effects of sexual abuse and threats of firing and homelessness (due in large part to a failure to pay wages combined with the threat of eviction and discharge) were combined with a demand to sign a non-disclosure agreement. The threats included economic threats, threats of lawsuit and arrest."
Article continues below advertisement
In a shocking revelation, Chiaramonte goes on to claim that Toni Ann was actually sexually abused by a member of her own family. "There was never any disclosure by Employee of the facts of the familial sexual abuse or drug use prior to this harassment. In addition, Employee had knowledge of these facts prior to accepting employment. Any additional facts obtained during employment were not covered by any confidentiality agreement, written or oral made in relation to the employment."