Exclusive
Rielle Hunter Claims She Wrote John Edwards Scandalous Tell-All For The Sake Of Their Daughter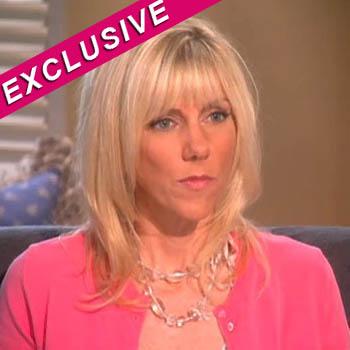 By Jen Heger - RadarOnline.com Assistant Managing Editor
Rielle Hunter claims in her new book that she was forced to write the scandalous tell-all about her relationship with former presidential nominee, John Edwards, to set the record straight for the sake of their love child together, Frances Quinn, RadarOnline.com is exclusively reporting.
As we previously reported, Hunter's bombshell memoir, What Really Happened, was rejected by all major publishers and is being released on Tuesday, June 26 by a small Dallas-based company called Ben Bella.
Article continues below advertisement
The New Age guru and wanna-be actress, says in the introduction to the book: "Apparently everyone is ready to judge me, to judge Johnny, and to judge our relationship. That's okay. This book isn't about changing anyone's mind. It's simply about telling the full truth, which up until now, no one has heard.
"At its heart, this is a love story. It's about two people who fell in love, made terrible sacrifices for that love, and did terrible things in defense of that love. I have regrets about some of the things we did -- of course I do. But I don't regret loving Johnny, and I certainly don't regret the birth of our daughter, Quinn. I originally thought I could get through this whole ordeal without needing to write a book. But in the summer of 2010, I finally grasped the full depth of the story and my role in it, and I changed my mind."
Hunter and Edwards, who was married to cancer stricken Elizabeth at the time, met at a New York City hotel in 2006 and had sex in his hotel room that very same night, which Hunter details in her book and labels "the most extraordinary night of my life." She also goes into depth about her decade-long cocaine habit, claims John had multiple mistresses and bashes Elizabeth, calling her a "witch on wheels."
Article continues below advertisement
In her introduction, the 46-year-old goes on to say: "Many people invested their hearts, their time and their energy into the image of John and Elizabeth Edwards. While this image wasn't exactly true, I did play a role in destroying this myth, and many supporters ended up feeling hurt, betrayed, and disillusioned. I feel that I owe them the full story. I also believe that I have a responsibility to Johnny and his entire family to offer the truth.
"In addition to all of those reasons, I have a stronger, more personal force driving me to write this book. Her name is Frances Quinn. I want my sweet girl to have one entirely truthful public account of how she came into the world. After all, this is her story too. I am not writing this book as a defense, but everything in it I would repeat under oath. It is the truth. Our daughter deserves it."
In January 2010, after a blockbuster investigation by the National Enquirer, the two-time presidential candidate finally admitted publicly that he'd fathered a daughter out-of-wedlock with Hunter. Shortly after his admission, John and Elizabeth legally separated. Elizabeth died that December after a 6-year battle against breast cancer.