Jurors In John Edwards Trial: 'The Evidence Just Wasn't There'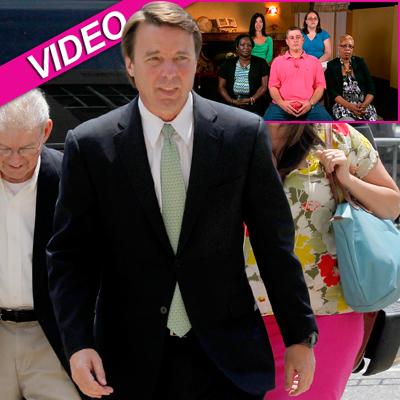 Members of the North Carolina jury that acquitted politician John Edwards on one of six charges, but couldn't come to a conclusion on the other five counts, appeared on Good Morning America Friday to discuss the divided opinions in the jury room.
Denise Speight -- the juror some media pundits accused of flirting with Edwards -- denied any such communications.
"I thought it was just the most funny thing I've ever heard," the brunette beauty said. "Actually, I was giggling over, I think, the media reaction when we walked into the courtroom over our outfits and color.
Article continues below advertisement
"I had no intention of flirting with John Edwards, and I don't think he had any intentions of blushing or flirting back with me."
Juror Theresa Fuller said she "felt like the evidence against Edwards just wasn't there.
"It could have been more: it could have been a lot more than what it was," Edwards said.
"Twelve people, trying to get them all to see eye to eye on the same level, that's going to be hard in any aspect," juror Jonathan Nunn said. "Everybody's got their own beliefs based off what they saw and they stood their ground, they stood by their decision and I respect that."
Juror Sheila Lockwood said, "I just felt that he didn't receive any of the money so you can't really charge him for money that he got.
"He didn't even get the money so I just didn't think he was guilty … there wasn't enough there."
Watch the video on RadarOnline.com
Edwards was accused of four counts of illegal campaign contributions, one count of conspiracy and one count of false statements. The embattled politician, 58, was acquitted on his indictment's third count, involving checks he received from 101-year-old socialite Rachel "Bunny" Mellon.
Article continues below advertisement
In January 2010, the two-time presidential candidate finally admitted publicly that he'd fathered the girl, Frances Quinn Hunter, out-of-wedlock with his former mistress, Hunter. Shortly after his admission, John and his late wife Elizabeth legally separated. Elizabeth died that December after a 6-year battle against breast cancer.
Following Thursday's verdict, Edwards was contrite about his misdeeds, admitting, "I did an awful, awful lot that was wrong."