John Edwards Juror Flirts With Him In Court!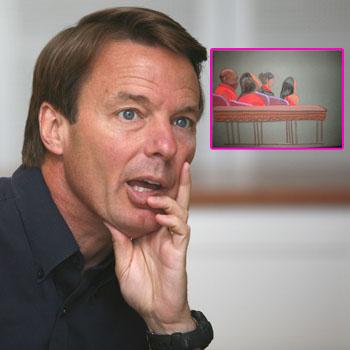 Article continues below advertisement
The drawing of the alternate juror from the court sketch artist obtained by RadarOnline.com shows the woman in a revealing red shirt. She wore the sexy red blouse to court on Friday, with a single spaghetti strap that exposed her right shoulder.
The alternate juror apparently "smiles," at John. "He smiles at her. She giggles. He blushes," according to First Coast News.
John Edwards is on trial for the nearly $1 million in payments that prosecutors say were campaign contributions that he used to cover up his affair and love child with Rielle Hunter, which he had while his wife Elizabeth Edwards was sick with cancer.
There are 12 jurors currently discussing the evidence they saw during the almost month-long trial, but the four alternates are not with them and they have been exhibiting odd behavior for the last two days.
On Thursday the four all wore yellow shirts and then on Friday all four of them were wearing red shirts, and they enter the court each day giggling with each other, which has caused a commotion in the courtroom but so far has not earned a comment from the lawyers or the judge.
Article continues below advertisement