John Edwards Trial: Hiding Mistress Was 'Most Important Job Of Campaign,' Claims Ex-Aide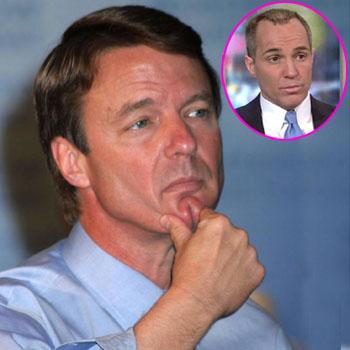 By Debbie Emery - RadarOnline.com Reporter
John Edwards' former aide, right-hand man and secret-keeper spilled more damning allegations during his testimony Wednesday at the former Presidential candidate's campaign finance violation trial.
Andrew Young told the Greensboro, North Carolina courtroom how even after the shamed senator lost his presidential campaign, hiding his mistress was still "the most important job on the campaign," because Edwards had political aspirations, reported ABCNews.com.
Article continues below advertisement
As RadarOnline.com previously reported, the 58-year-old is accused of illegally channeling almost $1 million in campaign contributions to cover up his affair, and subsequent love child, with his campaign videographer Rielle Hunter. Edwards has pleaded not guilty to the six counts he's accused of: four counts of illegal campaign contributions, one count of conspiracy and one count of false statements.
Given the responsibility of making sure Hunter's pregnancy never came to light, Young and his wife, Cheri, lived with her, and Young even publicly claimed he was the father of her baby, which was so unpleasant that he almost came to blows with Edwards over the matter on one occasion.
Young testified that during a meeting in Texas with Fred Baron, Edwards' national campaign finance chairman, in the spring of 2008, they discussed the Youngs' long-term plans because the couple no longer wanted to live with Hunter.
Article continues below advertisement
"He told me I needed to stay focused on the job at hand," the former aide told the jury during his third and final day on the witness stand. "He told me to take a deep breath. Do the best I can. ... Mr. Baron wanted us to try and hold on until the Democratic National Convention."
The situation allegedly got even more dire for the Young family when in December 2007 – after running up more than $200,000 of expenses on a trip with pregnant Hunter to keep her in hiding – Andrew was told he could never return to North Carolina because Edwards was going to be a very prominent person.
"Mr. Edwards, according to the media and what Fred Baron was saying, was going to be the vice presidential nominee and we needed to keep the cover-up going," said Young, who was instructed to sell his house and "create a new life."
Then to make matters even worse, after Edwards' illegitimate daughter Francis Quinn was born in 2008, the Democratic politician tried to cut off all contact with Young.
"We had a very angry exchange," Young told the court. He said the two started yelling at each other and nearly came to blows. Before they parted, Edwards told Young that he loved him and would never abandon him.
Article continues below advertisement
However, his former boss threw him under the bus once again during an interview with ABC News when he admitted to an extramarital affair, but said that he was not the father of Hunter's baby, adding that he didn't know if Young was the father or not.
During Tuesday's testimony, Young claimed that Edwards instructed him to ask Rachel "Bunny" Mellon for a donation for a "non-campaign" expense, and the strong supporter offered $1.2 million, which he then funneled through his accounts, reported RadarOnline.com.