John Edwards 'Denied, Deceived And Manipulated' During Presidential Campaign, Argue Prosecutors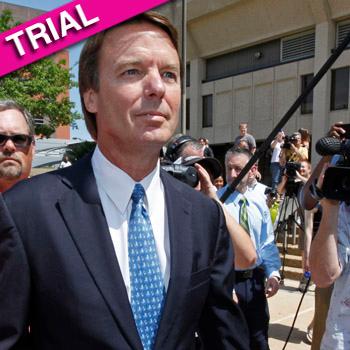 Article continues below advertisement
"You name it, he said it... Anything to preserve his chance to be president," he said.
As RadarOnline.com previously reported, the 58-year-old is accused of illegally channeling almost $1 million in campaign contributions to cover up the affair during his 2008 presidential campaign. Edwards has pleaded not guilty to the six counts he's accused of: four counts of illegal campaign contributions, one count of conspiracy and one count of false statements.
"It's not a federal crime to have an affair," said Harbach, according to the New York Times. "That is not the reason to convict him. At the end of this trial, there will be plenty of reasons to do so."
Former campaign staffer Andrew Young was the first witness called to testify, and defense attorney Allison Van Laningham argued that the contested funds were largely a scam carried out by Young and his wife, Cheri, to siphon hundreds of thousands of dollars from the banking heiress Rachel "Bunny" Mellon to build a $1.5 million house in Chapel Hill.
Article continues below advertisement
She claimed that other payments went to cover medical expenses for Hunter and to keep the affair secret to avoid humiliation of Edwards' wife, Elizabeth.
"It never crossed his mind that the money would be in violation of campaign finance law," Laningham told the jury. "John Edwards did not get one penny of this money.
"John Edwards is a man who committed many sins - but no crime."
EXCLUSIVE: Read The Documents That Prove John Edwards Is Father Of Love Child
According to the New York Times, the trial will come down to who the jurors believe, Edwards or Young, who once falsely claimed paternity of the child his former employer fathered with Hunter to protect Edwards, tried to sell a sex tape of Edwards and Hunter and wrote a tell-all book of the Edwards' affair and ill-feted presidential campaign. Young has been granted immunity to testify for the prosecution.
Article continues below advertisement
In January 2010, Edwards finally admitted publicly that he'd fathered the now-4-year-old girl, Frances Quinn Hunter, with Rielle. Shortly after his admission, John and Elizabeth legally separated and she died that December, age 61, after a 6-year battle against breast cancer.
The trial could last as long as six weeks and if he is convicted on all six counts Edwards faces up to 30 years in prison and $1.5 million in fines.