Disgraced John Edwards Gets His 'Day In Court' As Jury Selection Begins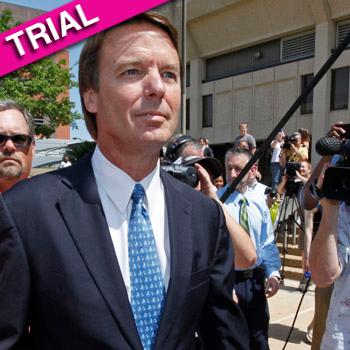 Shamed former senator John Edwards arrived at a federal courtroom on Thursday as the jury selection in his election corruption trial began.
The attorney who made his name arguing malpractice cases will now play the role of defendant in the Greensboro, North Carolina, court when he argues that he did not violate any campaign laws during his unsuccessful 2008 campaign for president.
"What's important now is that I now get my day in court," Edwards proclaimed last October when a federal judge rejected his request to dismiss the government's criminal case against him. "After all these years — I finally get my day in court."
Article continues below advertisement
The 58-year-old former Democratic vice presidential candidate faces up to 30 years in prison and $1.5 million in fines if convicted on all six federal counts against him, reported the Los Angeles Times. The trial was scheduled for earlier this year but delayed because Edwards was suffering from a life-threatening heart condition.
"What I know with complete and absolute certainty is I didn't violate campaign laws and I never for a second believed I was violating campaign laws," he claimed adamantly.
As RadarOnline.com previously reported Edwards is accused of conspiring to violate campaign-finance laws by using $1 million from campaign donors to cover up his affair and love child with Rielle Hunter, which was revealed in an exclusive bombshell report from the National Enquirer.
He initially denied the affair and according to the 2011 indictment, he asked a trusted campaign aide, Andrew Young, to falsely claim that he was the father of his daughter, Frances Quinn, who was born in February 2008. Young and his wife took Hunter into their North Carolina home and later flew with her around the country, staying in expensive hotels and private homes as Young tried to hide her from public view, but later turned on his boss and wrote a tell-all book.
MORE ON:
Celebrity Justice
Article continues below advertisement
Rielle, who settled a lawsuit earlier this year against Young to reclaim ownership of an illicit sex tape he and his wife Cheri had, is expected to appear in court as a witness.
Edwards could have avoided the trial altogether if he had accepted a plea deal offered by prosecutors that would have allowed him to serve as little as six months in jail and keep his law license, according to the Associated Press, but he wanted to demonstrate his "faith in the wisdom" of citizens who sit on juries.