John Edwards Hosts Daughter Cate's Wedding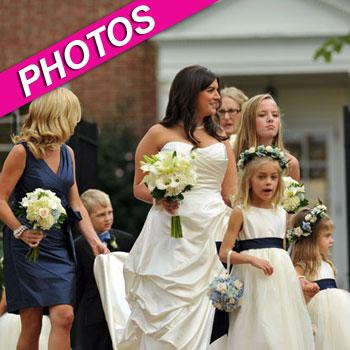 Cate Edwards, the daughter of disgraced former Sen. John Edwards and the late Elizabeth Edwards, was married in North Carolina on Saturday.
Cate, 29, wed Dr. Trevor Upham, 30, at the United Methodist Church in Chapel Hill, and then celebrated at a reception hosted by her father at the family's estate.
Cate's sister Emma Claire, 13, was her maid of honor and her brother Jack,11, was a groomsman.
Article continues below advertisement
One of her mother's favorite poems by Maya Angelou was read during the service. At the reception, a trio played during cocktails and a rock band took over after dinner and got everybody on their feet dancing.
"We want this to be really happy and joyous and that's what my mother would want," Cate told People.
Cate's parents were in the process of divorcing when Elizabeth, lost her long battle with cancer last December, just two weeks after Trevor popped the question.
"I feel so lucky to have shared that joy with her, to have had the time to leaf through bridal magazines together and talk about the wedding," Cate wrote in an article for the November issue of Glamour magazine.
As RadarOnline.com previously reported, Cate has said that her mother is never far from her thoughts.
"That willingness to give of herself is why mom feels so alive to me today. I think about her constantly. I hear her voice in every choice I make, big and small," revealed the new bride.
Article continues below advertisement
Cate stood by her father's side in another more somber occasion earlier this year when he appeared in court facing six felony charges that he illegally used campaign contributions during his failed Presidential campaign to cover-up his affair with Rielle Hunter, reported RadarOnline.com, with whom he fathered a child.
With his trial set for January, Edwards is scheduled to be in court on Wednesday in an attempt to get the case thrown out.