John Edwards' Daughter Cate Getting Married This Weekend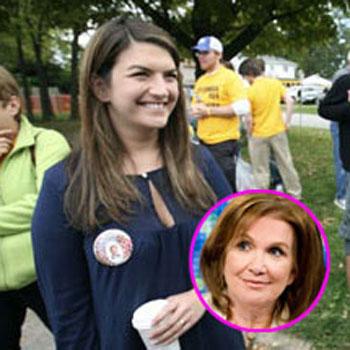 By Alexis Tereszcuk - RadarOnline.com Senior Reporter
Cate Edwards is tying the knot with her long term boyfriend this weekend, but without her beloved mother by her side.
The pretty brunette daughter of John and the late Elizabeth Edwards, who passed away on December 7, 2010, after a six-year battle with breast cancer, is marrying Dr. Trevor Upham at the North Carolina home her parents built, and she spoke lovingly of her mother and the wedding plans they made together.
Article continues below advertisement
"In the year since I said goodbye to my remarkable mom, so many things have changed," Cate said in a heartfelt article she wrote for Glamour magazine.
"Many of those changes—like my upcoming wedding—were rooted in the days when she was still wonderfully, mischievously alive. On the Friday after Thanksgiving 2010, just before we learned that Mom's cancer had spread to her liver, my boyfriend, Trevor Upham, surprised me by flying in to visit my family in North Carolina.
"After I picked him up at the airport, he suggested a detour through Raleigh—and proposed to me in front of the green-shuttered house that my parents had brought me home to as a newborn. After a celebratory lunch, we headed to Chapel Hill, where my family lives; we entered a house full of smiles, including my mom's. She had been in on it for weeks. Trevor had shipped her the ring weeks before, and she had hidden it in the trunk of my car so he could retrieve it before he popped the question."
Article continues below advertisement
Cate, 29, said Elizabeth played a large part in helping her to plan her wedding.
"I feel so lucky to have shared that joy with her, to have had the time to leaf through bridal magazines together and talk about the wedding. We agreed the reception would be outdoors, with a "rustic romantic" theme. Mom advised me to think carefully about the ceremony: It could be an important map, she said, for our life together. Even though I've had to plan the wedding without her, I feel blessed because, in her last weeks, she told me she was comforted to know I'd set forth on my own life path, with someone she loved and respected, and with whom she truly believed I would be happy."
Her father John, who disgraced the family when he had an affair with videographer Rielle Hunter and fathered a child with her, will be walking Cate down the aisle and her sister Emma Claire will be her maid of honor and her brother Jack will be a groomsman.
Cate has left her legal job to start the Elizabeth Edwards Foundation and said that her mother is never far from her thoughts.
"That willingness to give of herself is why mom feels so alive to me today. I think about her constantly. I hear her voice in every choice I make, big and small."