John Edwards Socialite Supporter Bunny Mellon Says He Had A 'Hard Time With Elizabeth'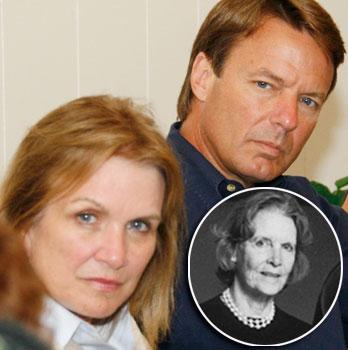 By Alexis Tereszcuk - RadarOnline.com Senior Reporter
The demise of John Edwards' marriage after he got his mistress pregnant was very public, and while he has never spoken ill of his late wife, one of his close friends recently said John had a "hard time" with Elizabeth.
Bunny Mellon, the extraordinarily rich benefactor whose $725,000 donations to Edwards are at the center of his federal indictment, gave her first interview in over 25 years and spoke about the Edwards' relationship.
Article continues below advertisement
"You know that John had a hard time with Elizabeth," Mellon told Newsweek, saying that her sympathies were always with John and not Elizabeth, who tragically died from a long battle with cancer in 2010. Mellon's lawyer Alex Folger said of his client: "She was not enamored of his wife and didn't want his wife to know that he was getting money."
Edwards' secret affair with campaign videographer Rielle Hunter was first revealed by the National Enquirer and originally denied by the presidential candidate and his wife. Another staffer, Andrew Young, claimed he was the father of Rielle's baby and she lived with his family, supported by cash donations from Mellon.
Edwards eventually admitted he was the father of the little girl, Quinn, and he and Elizabeth separated before her death.
Edwards has been charged with six felonies alleging that he used campaign funds, cash donations given by Mellon, to cover up the affair.
Mellon was interviewed by the FBI for her involvement but, about to turn 101 and legally blind, she is not expected to testify. Mellon still defends Edwards, and the two met at her home on May 26, before he was indicted. "He would have been a great president," she said. "He and I were great friends. Every time he'd go on a debate against Hillary, he'd call and we'd talk...I was surprised when this thing came up." He has been banned from contacting Mellon since that meeting.
Article continues below advertisement
Her family is distraught by the relationship between Bunny and John. Her grandson Thomas Lloyd, who testified before the grand jury, said "I wish I could have 10 minutes in a room with John Edwards to explain that he's doing nothing but tarnishing her legacy and really taking advantage of her."
He said that Edwards is still close to his grandmother. "He's done a very good job of maintain the sense that 'Bunny, I want to be your friend; Bunny, feel sorry for me in this predicament, we'll get through this together.' I think it's awful."