Exclusive
John Edwards Pleads Not Guilty -- Insists He 'Did Not Break The Law'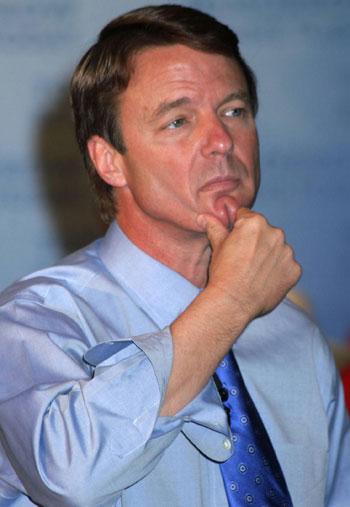 RadarOnline.com Staff Reporter
John Edwards appeared in a Federal Court in North Carolina on Friday, and pleaded not guilty to six felony charges including conspiracy, false statements and campaign law violations.
The two-time U.S. presidential candidate and former North Carolina senator gave a brief statement outside of the court saying: "There's no question that I've done wrong and I take full responsibility for having done wrong. And I will regret for the rest of my life the pain and the harm that I have caused to others but I did not break the law and I have never, ever thought I was breaking the law."
Article continues below advertisement
DOCUMENTS: John Edwards Arrest Warrant
There was no bail set and the judge released Edwards on his own recognizance. He must surrender his passport and is restricted to travel in the 48 contiguous states.
Judge Patrick Auld also instructed Edwards to stay away from Bunny Mellon, the 100-year-old donor who allegedly gave him hundreds of thousands of dollars which he used to cover up the affair and child he had with Rielle Hunter.
DOCUMENTS: John Edwards Indictment
Edwards was joined in court by his daughter Cate and his attorney Greg Craig, who worked for both President Clinton and President Obama.
The 19-page indictment, obtained by RadarOnline.com detailed Edward's alleged deception: "Edwards knew that public revelation of the affair and pregnancy would destroy his candidacy by, among other things, undermining Edwards' presentation of himself as a family man and by forcing his campaign to divert personnel and resources away from other campaign activities to respond to criticism and media scrutiny."
Article continues below advertisement