John Edwards Doubted Rielle Hunter's Baby Was His, 'Only 1 In 3 Chance' Former Aide Claims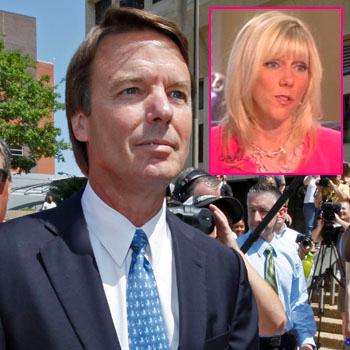 By Debbie Emery - Radar Reporter
Embarrassing details of shamed senator John Edwards' personal life came pouring out in court on Tuesday when his former aide took the stand to testify on behalf of the prosecution in his campaign finance violation trial.
After helping Edwards cover up his mistress' illegitimate pregnancy during his 2008 presidential bid, Andrew Young has switched sides and testified Tuesday that Edwards called Rielle Hunter a "crazy s**t," and said there was only "a 1-in-3 chance" that the baby was his, reported Charlotte.cbslocal.com.
Article continues below advertisement
As RadarOnline.com previously reported, the 58-year-old is accused of illegally channeling almost $1 million in campaign contributions to cover up the affair. Edwards has pleaded not guilty to the six counts he's accused of: four counts of illegal campaign contributions, one count of conspiracy and one count of false statements.
Taking the stand in the the Greensboro, North Carolina courtroom for the second day, Young told jurors that Edwards directed him to start giving money to Hunter in May 2007 after she threatened to go to the media and expose the affair.
Young claimed that Edwards then suggested asking elderly heiress Rachel "Bunny" Mellon for a donation for a "non-campaign" expense, and the strong supporter offered $1.2 million. Under federal law, donors are limited to giving a maximum of $2,300 per election cycle, so Young alleges that they hatched a plan where Bunny would send the checks to her interior designer in Charlotte, who would then funnel them to Andrew and his wife, Cheri.
Article continues below advertisement
"We were scared. It was a truckload of money, more money than had ever flowed through our accounts… It was crazy," he testified on the stand, claiming that when he expressed concern to Edwards, he was assured it was legal.
Young then went on to testify that in June, Hunter told Edwards she was pregnant – who in turn told him to "take care of it."
"He said she was a crazy s**t and there was a 1-in-3 chance that (the child) was his," Young testified. It was at this point, Young claims, that the aspiring president directed his aide to take the money from Mellon to create an allowance for Hunter of between $5,000 and $12,000 so she could travel to meet with him and keep her pregnancy secret from his wife, Elizabeth.