John Edwards Found Not Guilty Of Illegal Campaign Contributions, Mistrial On Other Counts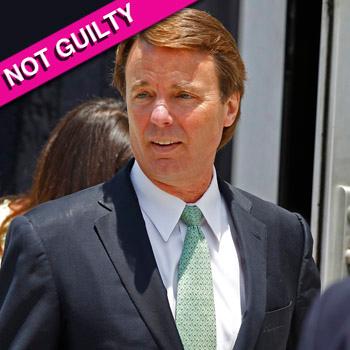 By Debbie Emery - RadarOnline.com Reporter
Following nine days of deliberations, the jury finally returned a verdict on Thursday in the campaign finance trial of shamed senator John Edwards and found him not guilty on count number three, of illegal campaign contributions, and a judge declared a mistrial on all the other counts.
Wearing his "lucky" green tie, the former senator stood in the Greensboro, North Carolina courtroom as the decision was read out in what is considered a win for the Edwards legal team.
Article continues below advertisement
As RadarOnline.com previously reported, the 58-year-old had pleaded not guilty to the six counts he was accused of: four counts of illegal campaign contributions, one count of conspiracy and one count of false statements.
Edwards was on trial for the nearly $1 million in payments that prosecutors say were campaign contributions he used to cover up his affair and love child with Rielle Hunter, which he had while his wife Elizabeth Edwards was sick with cancer.
After three weeks of explosive testimony from the prosecution, the defense rested their case on May 16 without calling either Hunter or Edwards' daughter, Cate, to testify.
Jury members hit the headlines in their own right last week when an alternate juror described in some reports as "an attractive young woman with jet black hair," was spotted smiling at Edwards in the court and flipping her hair in what seems to be a flirtatious manner. Four other alternate jurors exhibited odd behavior by wearing matching yellow and then red shirts in the courtroom, and giggling childishly.