Defense Rests In John Edwards Trial, Rielle Hunter Will Not Testify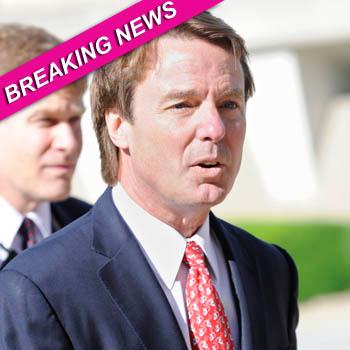 Jurors who were expecting to hear testimony from both John Edwards' daughter and his former mistress this week were told on Wednesday that the defense has abruptly rested its case.
After three weeks of explosive testimony from the prosecution, the defense attorneys in Edwards' campaign finance trial opened on Monday but then informed the federal judge in the Greensboro, North Carolina courtroom that after just two days they would not be calling Cate Edwards or Rielle Hunter to the stand.
Article continues below advertisement
Lawyers for Edwards ended their case with a series of bank statements, phone records and Federal Election Commission memos.
Calling Hunter, the mother of his illegitimate love child, to the stand could have supported Edwards' position that he didn't have direct knowledge of the secret effort to care for her and keep her out of the public eye.
Alternatively the move could have backfired as she could have also called more attention to the lies surrounding their affair and pregnancy.
Cate, 30, was also reportedly on a list of possible witnesses for Wednesday after standing by her father's side throughout the trial, despite the fact that he cheated on her mother, Elizabeth, while she was dying from cancer.
As RadarOnline.com previously reported, the 58-year-old has pleaded not guilty to the six counts he's accused of: four counts of illegal campaign contributions, one count of conspiracy and one count of false statements.
Article continues below advertisement