John Edwards' Sobbing Daughter Flees Court After Testimony Of Fight With Late Mother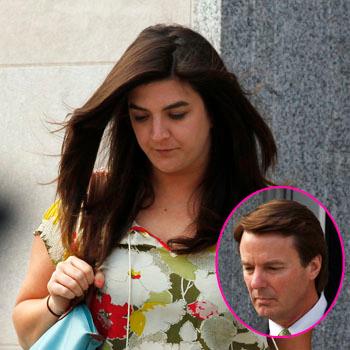 Article continues below advertisement
Christina Reynolds began to recall a shocking fight that John and Elizabeth had in the Raleigh airport in October 2007, the day the National Enquirer broke the story about the then presidential candidate's affair with Rielle Hunter.
As the testimony began, John turned around to Cate and said "I don't know what's coming; do you want to leave?" and she spoke back to him softly before abruptly leaving the courtroom in tears.
Her father called after her, saying "Cate, Cate," but she fled sobbing.
The incident that Reynolds detailed was published in the book Game Change in 2010 but attributed to an anonymous source.
She testified that a very upset Elizabeth Edwards confronted John about the Rielle story and stormed away from him, but collapsed in the parking lot.
Reynolds said Elizabeth then walked back to John, pulled off her shirt and bra and while topless screamed at him "You don't see me anymore." She testified that John didn't show any emotion during the shocking outburst, but that he called Elizabeth's doctor and asked for help.
Article continues below advertisement