John Edwards' Ex-Aide Was Scared He Was Going To Have Him Killed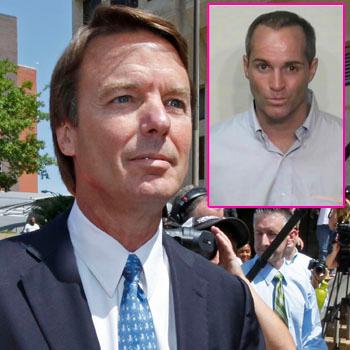 By Debbie Emery - RadarOnline.com Reporter
It has been a long week for John Edwards' former aide, Andrew Young, who was back on the stand on Friday testifying in the shamed senator's campaign finance violation trial, where he revealed he once feared for his life.
During a grueling cross examination by Edwards' defense team in the Greensboro, North Carolina courtroom, the man who was ordered to cover up Edwards' affair with mistress Rielle Hunter and hide her pregnancy, described his final car ride with the defendant on August 18, 2008 through a remote wooded area.
Article continues below advertisement
Their friendship was already strained by the stress of the politician's illicit affair, and it got worse after Young told Edwards, "If he wasn't going to tell the truth about what transpired, then I was going to tell the truth," reported ABCNews.com.
He then made the bombshell revelation that he had saved voicemails, text messages, emails and photographs as well as a sex video of Edwards and Hunter.
Article continues below advertisement
The news did not go down well, and Young said "at one point I was scared for my life," when Edwards became sweaty and agitated.
"Did you think John Edwards was going to shoot you?" defense lawyer Abbe Lowell asked.
"Not personally," Young replied.
"You thought there was a gunman in the woods who was going to come and shoot you?" suggested Lowell, to which the witness responded: "That thought did cross my mind."
MORE ON:
Elizabeth Edwards
Young had an easier time later in the day when prosecutor David Harbach asked why he thought it was acceptable to use money donated to help hide Hunter to treat his family to vacations at Disneyland, Legoland and skiing in Aspen, as well as adding a swimming pool, a home theater and a guest room over the garage of his home.
"For all the stress... put on my family," he responded, explaining his wife Cheri needed to keep his children balanced.
Article continues below advertisement
Working for Edwards and his wife, Elizabeth Edwards, had started out being "a true privilege, inspiring and exciting," said Young, but they rapidly spiraled downwards when he began cheating on her with Hunter.
"The things that happened since then were in direct contradiction to the man I knew back then and it's very hard for me to put those two men together," said Young.
In January 2010, Edwards finally admitted publicly that he'd fathered the now-4-year-old girl, Frances Quinn Hunter, out-of-wedlock with Hunter. Shortly after his admission, John and his late wife legally separated. Elizabeth died that December after a 6-year battle against breast cancer.