John Edwards Ex-Aide Portrayed As A Money-Hungry Secret-Seller By Defense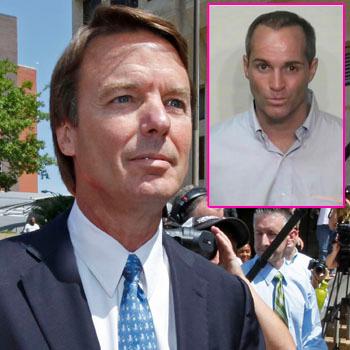 By Debbie Emery - RadarOnline.com Reporter
The campaign finance violation trial of shamed senator John Edwards took an even sleazier turn on Thursday as the defense team alleged that former aide Andrew Young manipulated mistress Rielle Hunter's pregnancy for his own monetary gain.
In his cross examination of Young in the Greensboro, North Carolina courtroom, defense lawyer Abbe Lowell demanded, "In the spring of 2007 you learned of Rielle Hunter's pregnancy and used it for yourself as a way to get money," reported to ABCNews.com, to which the berated witness, enduring his fourth day on the stand, replied: "No, sir, absolutely not true."
Article continues below advertisement
Referring to Young's 2010 book, The Politician, Lowell accused him of going out of his way to cash in on the scandal. "You have sought and made money," he said.
As RadarOnline.com previously reported, 58-year-old Edwards is accused of illegally channeling almost $1 million in campaign contributions to cover up his affair, and subsequent love child, with Hunter, his campaign videographer. Edwards has pleaded not guilty to the six counts he's accused of: four counts of illegal campaign contributions, one count of conspiracy and one count of false statements.
Also in Thursday's explosive proceedings, Lowell quizzed Young on whether he spilled the beans on the illegitimate baby he was meant to be hiding to the National Enquirer, who broke the story in a ground-breaking exclusive that rocked Washington D.C.
"Were you the source for the National Enquirer?" Lowell asked. Young denied that but admitted that he did know the magazine's phone number and had called them, but no further details were requested.
Article continues below advertisement
Instead Lowell went on to attack what he described as Young's shifting memory about when he found out about the pregnancy and why he approached wealthy philanthropist Rachel "Bunny" Mellon for donations on Edwards' behalf.
"Sometimes you pegged the date as early May," Lowell said. "Sometimes you pegged it as late May. Sometimes you moved the date you had learned to June."
The defense attorney ascertained that the payments from Mellon and from Edwards' former campaign finance chairman Fred Baron were out of fear of his wife finding out about the affair, and weren't illegal uses of campaign donations.
"It was Mrs. Edwards. The person he was trying to avoid finding out about (the affair) was Mrs. Edwards," and even went on to claim: "The concern he is showing is about Elizabeth."
Young's repeated and public lambasting on the stand was damaging to both his reputation and the prosecution's chances of a conviction.
"He is withering on the vine," former prosecutor Kieran Shanahan told ABC News. "He is backing off some of his positions and I think he's really done damage to his own credibility and the government's case."