Elizabeth Edwards Laid To Rest, Estranged Husband John In Attendance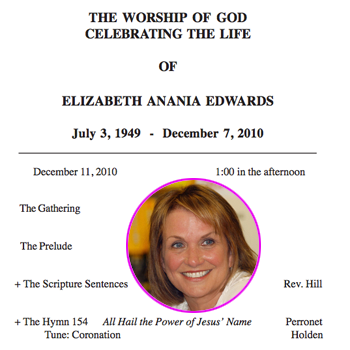 Hundreds of Elizabeth Edwards family and friends gathered today to say goodbye to the inspirational wife of former Senator and VP candidate John Edwards. Her funeral was held at Edenton Street United Methodist Church, RadarOnline.com can report.
It was at that same North Carolina church where Elizabeth and John held funeral services for their son Wade in 1996 after the teenager was killed in a car crash.
Article continues below advertisement
In a particularly touching scene, four of Wade's closest friends were pallbearers for Elizabeth's casket, People is reporting.
The traditional service featured the reading of Bible verses and the singing of hymns, including Rock of Ages.
Elizabeth and John's oldest child, Cate Edwards, 28, gave an exceptionally moving eulogy.
Her father John joined her in the church, along with Elizabeth's youngest children, Emma Claire and Jack.
Elizabeth Edwards' valiant six year battle against cancer ended on Tuesday when she died peacefully in the home she'd once shared with John. Elizabeth was just 61 years old.
Their marriage came to a crashing halt after it was revealed -- and he finally admitted -- he'd had an affair and fathered a child with his former campaign worker Rielle Hunter.
VIDEO: John Edwards Admits He Fathered Baby
John Edwards is still under investigation for the possible misuse of campaign funds in relation to his affair with Hunter.