John Edward's Ex-Aide 'Took Ambien And Drank A Lot' Because Of Stress Of Hiding Senator's Affair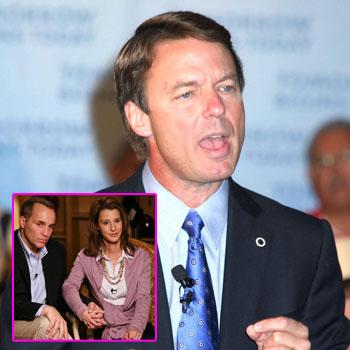 Article continues below advertisement
She also recently admitted that she told the FBI and prosecutors that her husband has taken the popular sleeping pill, Ambien, for years. In a transcript from the interview on April 19 Cheri revealed, "Ambien makes her husband loopy and he couldn't remember things the next day."
As RadarOnline.com previously reported, the 58-year-old is accused of illegally channeling almost $1 million in campaign contributions to cover up his affair, and subsequent love child, with Rielle Hunter, his campaign videographer. Edwards has pleaded not guilty to the six counts he's accused of: four counts of illegal campaign contributions, one count of conspiracy and one count of false statements.
Later during the intense questioning, Duncan got increasingly direct with Cheri, asking her bluntly: "You are interested in getting John Edwards, right?"
He then went on to lambast Cheri, who broke down in tears during Tuesday's testimony, with accusatory questions.
"Mr. Edwards was like a third person in your marriage and you had a great deal of anger about that, didn't you?" he asked. "Isn't it true that because Mr. Young did not do the things you needed him to do for your family that you blamed Mr. and Mrs. Edwards for that?" he persisted.
Article continues below advertisement
Cheri politely denied both suggestions, telling Duncan, "There is no hatred. I can't live like that."
The Youngs have been painted by the defense as money-hungry schemers who used the campaign money to take their family on vacations to Disneyland and Aspen, and to remodel their Chapel Hill home.
"You had already come up with the scheme by June of 2007," claimed Duncan, but Cheri claimed e-mails and voicemails were saved in case they needed to defend their actions in court, not to sell and profit from.
"Those recordings were not kept for a book," she said. "It was because we accepted paternity for your client. And for this exact reason today. It was all a lie and here we are in court, and that's why they were saved."
The defense then showed a 13-minute video that Cheri took of the house where Hunter lived showing furniture, photos, newspaper articles, sticky notes listing the birthdates of John Travolta, Matt Dillon and Jeff Daniels. There was a list of possible baby names, including Quinn, which Hunter later named her child, reported ABC News. Cheri claimed the video was taken to prove there really was "a Rielle Hunter that I took care of."