Exclusive
Rielle Hunter Calls First Tryst With John Edwards 'The Most Extraordinary Night Of My Life'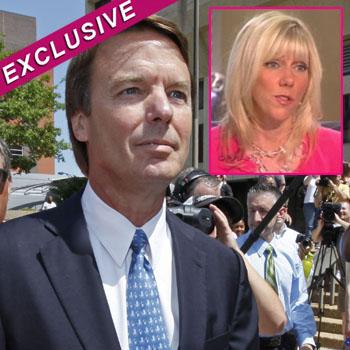 Article continues below advertisement
After meeting Edwards at the Regency Hotel in New York City during his run for president, the New Age guru says she only went to his hotel room with the sole intention of helping him with the campaign.
"The connection I felt when I walked in the door had only grown and the amount of energy between us was huge and unstoppable," Hunter reveals in her memoir. "And then a moment came while we were talking when something in my heart clicked and I surrendered. I took off my teacher hat, let go of all my resistance to him and let him lead. And lead he did. He led me toward the most extraordinary night of my life. There was a lot of talk, a lot of laughter and zero sleep."
As RadarOnline.com previously reported, during their initial tryst, Hunter claims Edwards told her that he had three other mistresses.
"He told me that he had an entire hidden life that had gone on for decades and that he was currently involved with three different women. One lived in Los Angeles, one in Florida, and one in Chicago," Hunter alleges. "Clearly, this behavior of his was not going to change overnight....I also told him that if I was going to help him, he couldn't lie to me. He needed to have one person in his life that was safe for him. He said that wasn't a problem, and when he said that, I felt a wave of total relief roll off of him. He needed this safe place. Somewhere in the midst of our talk, long after I realized how far off the rails his marriage was, and for how long it had been that way, something happened between us."
Article continues below advertisement
Edward's mistress says after their hotel hook-up, the duo began talking on the phone incessantly, for hours at a time. "We talked for two hours. He said repeatedly that he couldn't believe how easy it was to talk to me...I was completely fascinated by him. Where could this possibly be headed? And was he really already changing his behavior, based on our one night together?" Hunter writes. "Love does evolve you and encourage you to behave differently. Was he in love with me? That night began our frequent extended phone conversations, usually four hours in length....He said that he found me to be so refreshing and couldn't believe how easy I was to talk to. He also told me that I was the first person in his life that gave him energy instead of taking it."