Exclusive
Rielle Hunter Spent Decade Snorting Coke Before Working On 'Spiritual Growth'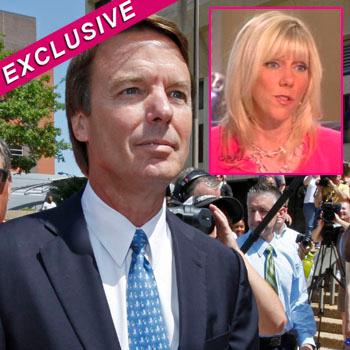 Article continues below advertisement
Before becoming a New Age spiritual guru, Hunter spent her 20s snorting cocaine.
"I don't like to think of myself as a stupid person but I have done a lot of things in my life that were just plain stupid. Snorting cocaine is stupid. Snorting cocaine for just under a decade, desperately attempting to recreate the euphoric high from the first line ever snorted is so far beyond stupid it may even qualify as criminal. Fortunately, I recognized this in my twenties and stopped. I then began to devote a huge amount of my time and energy to spiritual growth," Hunter says in the first chapter of the book.
Hunter details her meeting with married John Edwards at the Regency Hotel in New York City in 2006.
"Seated at our new table, I was now directly facing the alleged John Edwards. He looked directly at me, not smiling. I returned his gaze, also not smiling. He rested his face in his hands and continued to glance at me during the rest of his meeting. This was weird. I knew this man," Hunter reveals. After Edwards left the bar, Rielle says she ran into him on the street outside the hotel. "As he rounded the corner, he saw me and just lit up. I was very surprised to see him so soon, even though I had felt certain our paths would cross again. I could feel his joy when he saw me and I responded to it. Much to my own astonishment, 'You are so hot!' came flying out of my mouth. Not a usual greeting for me...His smile got even brighter."
MORE ON:
Elizabeth Edwards
Article continues below advertisement
During the brief meeting on the streets of New York City, Edwards asked Rielle to call him at his hotel. After offering to help the North Carolina native with his presidential campaign, Edwards was responsive to Hunter's offer. According to the book, "He replied, 'I want your help. I need your help.' 'Do you email?' I asked. He said, 'No. I am staying here under the name Matthew Nelson. Call me.' 'How long are you staying?' I asked. He replied, 'Until tomorrow morning. Call me. Call me.' And then he was gone. I had never in my life experienced anything like that meeting. It actually made me dizzy. There was a very strong connection, between us, I was certain of it."