Bachelorette Emily Maynard Accused Of Being A Gold Digging Diva!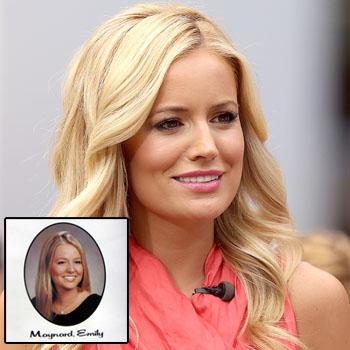 It looks like Emily Maynard may soon be exposed as the gold digging diva some believe she really is, RadarOnline.com is reporting.
The North Carolina native has won people over for now, but that could soon change. Sources close to Maynard say "she is a nice girl, but she isn't as good as she is made out to be."
The 26-year-old stole the hearts of America when she appeared on The Bachelor and told the wrenching tale of how her race car driver fiancé Ricky Hendrick died in a plane crash. She then found out days later she was pregnant-- she was just 18. She was so genuine and irresistible on the show that the Bachelor himself, Brad Womack gave her the final rose and they got engaged. However, the two ended their relationship last year and she was then asked to be The Bachelorette.
Article continues below advertisement
That's when the trouble began insiders say.
"She got difficult," a show source tells Us Weekly. "She knew she was the star, so she became a bit of a diva."
The source claims Maynard demanded an outrageous amount of money and it didn't go over well. "Emily told producers she wanted $750,000 and they said no way but she settled for something higher than $100,000, probably around $150,000," the source said, pointing out that Jillian Harris and Ashley Hebert were only paid $50,000 and $30,000.
Her attitude has now caused a rift with Hendrick's family who didn't want her to be on the show and they are "livid" she is now The Bachelorette.
A source close to the family says, "When Emily went on The Bachelor they weren't pleased, but they supported her. Now they're not speaking. They don't want their grandchild in the spotlight. They are private people."
So in an effort to smooth things over, Emily demanded the production be moved from LA to North Carolina so her daughter wouldn't be uprooted.
Article continues below advertisement
"Producers gave her everything she wanted in terms of accommodations," the source says.
And, while Emily is looking for love on the show, she also wants to fall for with someone who has money, the source claims. When Hendrick died, his reported worth was $15 million and since then, she has continued to date men with big bank accounts. The single mom has been linked to country singers Jake Owen and Jerrod Niemann. She also dated another race car driver -- Dale Earnhardt Jr.
"Emily is a bit of a social climber. She has dated some heavy hitters and she started to get a bad reputation around town. She's well-liked now, but it did take away," the source says.
"Money is important to Emily," someone close to the show explains. "It played a big role in how she viewed guys on The Bachelorette."
According to insiders, that's not the only thing she's seeking. There are claims the blond beauty got breast implants, veeners and most likely a nose job in 2010 before going on The Bachelor because she wanted to look her best for TV.
Article continues below advertisement
The source says when she was younger she was incredibly insecure because she developed Bell's Palsy and the nerve disorder caused, "the right side of her face to be paralyzed for a few months. She was tormented in school."
While the men on the show have commented on her beauty, not everyone agrees. A friend of Womack's met Emily when the two reality stars were still engaged and said, "her expressions seem kind of frozen. It looks like Botox."