Jennifer Aniston Makes Hilarious Appearance In 'The Bachelor' Spoof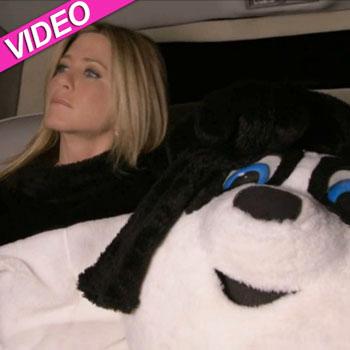 We never thought that we would catch Jennifer Aniston on a dating show!
The former Friend, who has never been bashful about her fascination with The Bachelor, made a surprise guest appearance on the Ben Stiller produced web series Burning Love – a spoof of the popular reality show – dressing up in a bear costume and competing for the 'final hose' against The Hangover star Ken Jeong, Kristen Bell and Malin Akerman - and RadarOnline.com has the hilarious video.
Article continues below advertisement
Aniston, who keeps a low profile by masking her identity as a furry animal as the other contestants battle it out for comedian Ken Marino's heart, doesn't reveal her famous face until she has been turned away without a final hose.
"Oh God. Maybe the bear suit wasn't such a good idea," Aniston quips.
EXCLUSIVE PHOTOS: Bachelor Reunion Pics
After a semi-emotional moment where she wipes away some tears – and suspiciously sports some bling on her ring finger – she begins to blame her outfit choice on her elimination.
Brad Womack Has 'No Interest' In Watching Emily Maynard On The Bachelorette