The Bachelorette: Emily Maynard Meets Her 25 Suitors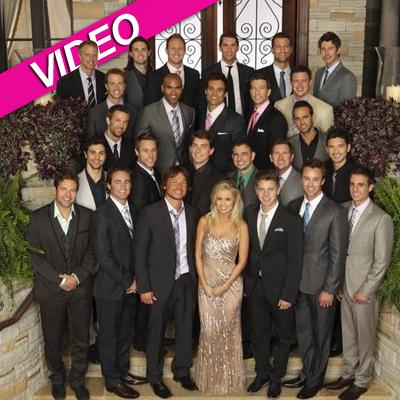 Emily Maynard, the one-time fiancée of former Bachelor Brad Womack, made her debut as The Bachelorette Monday, taking a gander at the 25 hunky bachelors trying to win her love.
The 26-year-old beauty becomes the first single mom in the show's eight-season history, as she has a 6-year-old daughter named Ricki. (The show was taped in Charlotte, North Carolina to accommodate her child.)
Emily made her goals clear from the get-go Monday, telling the men she's looking for a long-term love.
Article continues below advertisement
I want "a minivan full of babies," Emily said. "I want it so bad. I want to be in love. I want babies. I'm tired of being engaged. I want to get married."
As RadarOnline.com previously reported, Emily's former fiancée NASCAR, driver Ricky Hendrick, was involved in an auto accident that ended his career, and later died in a 2004 plane crash while she was pregnant with Ricki. She said on Monday she wasn't comfortable dwelling on yesteryear's tragedies.
"To be honest, I really don't want to talk about that anymore," Emily said. I've really moved on from that … I've been in love twice, and I lost it twice."
On Monday, Emily got to business quick, eliminating six of the 25 men vying for her affection.
Some of the men who did get roses included: Doug, a single dad from Seattle who gave Emily a letter his son Austin wrote for her; Kalon, a 27-year-old Houston, Texas native who admitted to past tendencies of being "extremely loud and obnoxious and a womanizer;" and Travis, a 30-year-old Wisconsin ad man who brought Emily an ostrich egg as a symbol of his intentions.
Article continues below advertisement
"This egg is a symbol of some beautiful people -- you and Ricki -- and throughout this journey, I will take care of this egg like I would take care of you and Ricki," he told her.
Watch the video on RadarOnline.com
The Southern stunner follows in the footsteps of past Bachelorettes such as Trista Rehn, Meredith Phillips, Jennifer Schefft, DeAnna Pappas, Jillian Harris and Ali Fedotowsky.
The Bachelorette airs Monday nights at 9/8c on ABC.