Bachelor's Courtney Robertson Says She Believes Ben Flajnik Didn't Cheat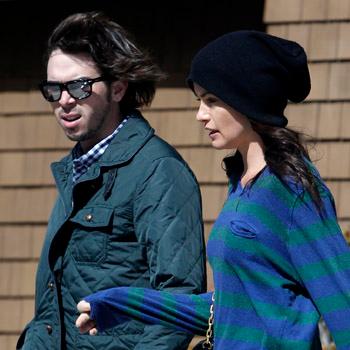 Article continues below advertisement
In her first interview since the show's finale, the former model says "it was upsetting," to see the photos of Ben locking lips with another girl in San Francisco, but insists, "at the end of the day, if I didn't trust him, I wouldn't be with him, period."
Courtney spills all to Wetpaint.com and claims that she played much smarter than her fiancé after filming finished.
"Here's the thing: I have a lot of platonic guy friends and Ben knows that," she says. "But I was very careful after the show wrapped not to get too close to them in public or put myself in a situation where a photo could be taken and something could be misconstrued.
"Ben just didn't have his guard up the way I did. He has a lot of female friends and he's a playful, flirty guy who likes to party with everyone. I get that about him and I'm completely fine with it. He's a really warm and social person.
Article continues below advertisement
"But he became a target. The tabloids hired people to follow him everywhere, just waiting for the chance to snap a photo of anything they could to make it look like he was doing something shady. I think you can take a photo and make it look like anything if you really want to."
She goes on to say that although she believes Ben was entirely innocent, she wasn't exactly happy about the shots.
"Am I thrilled about the photos? No. But I believe him when he says he didn't cheat."