Exclusive
Gloria Allred Meeting In Atlanta With John Travolta Sex Accuser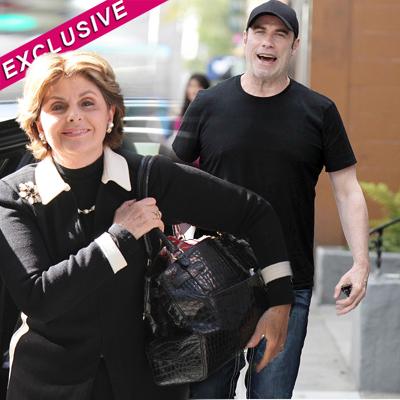 RadarOnline.com Assistant Managing Editor
Famed women's rights attorney Gloria Allred arrived in Atlanta, Georgia on Tuesday night and is meeting with her client, Casey "John" Truesdale, on Wednesday to discuss his sexual assault allegations against John Travolta, RadarOnline.com is exclusively reporting.
As we previously reported, Truesdale once held the position of a spa massage manager and lost his job after he was fired for inappropriate conduct. According to the source, Truesdale would remove the sheet placed over women when it wasn't necessary and would touch their breasts. Truesdale filed a $2 million sexual battery lawsuit under the anonymity of John Doe #2, alleging that the actor solicited him for sexual favors while
Article continues below advertisement
giving him a massage in his Atlanta resort hotel room in January, 2012.
However, that lawsuit was dismissed after Truesdale fired his former attorney Okorie Okorcha. Travolta's attorney, Marty Singer, has vehemently denied the allegations.
John Travolta Being Sued By Male Masseur For Sexual Battery
Allred will "be meeting with Casey to discuss his legal options going forward. Make no mistake, Casey will absolutely take legal action against Travolta, this isn't going away. Casey isn't intimidated by John Travolta's celebrity status. After meeting with Casey today, Gloria will be in contact with his lawyer, Marty Singer, and apprise him on how they plan on proceeding. It would be ideal if the case would settle, but Travolta's camp doesn't seem inclined to settle this. It's highly plausible that a new lawsuit will be filed against Travolta," a source close to the situation told us.