Exclusive
Former Robyn Gardner Aruba Suspect Gary Giordano Arrested For Indecent Exposure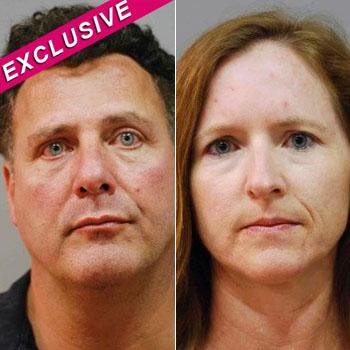 Article continues below advertisement
EXCLUSIVE DOCUMENTS: Gary Giordano Arrested For Indecent Exposure
According to documents, the divorced father of three is due to appear before the court on August 10, just one week after the first anniversary of Robyn's disappearance.
As RadarOnline.com previously reported, Giordano was released from an Aruban prison in November. Authorities considered him to be the prime suspect in 35-year-old Gardner's murder, but failed to find enough evidence to charge him.
The couple, who met on an adult dating site, went on a last minute vacation to the Caribbean island which ended in tragedy when Robyn vanished, allegedly while snorkeling, on August 2, 2011.
In the latest incident, several complaints were made to the Annapolis Police Department about illicit activity in a black Cadillac Escalade SUV in the parking garage on Gorman Street. When officers arrived on the scene they found Giordano and Carol Ann Bock, of Springfield, Tennessee, lying on a mattress in the rear cargo area partially covered with a blanket.
Article continues below advertisement
According to the police report, a second blanket had been draped over the window "in what appeared to be an attempt to conceal their activity," Ms. Bock's breasts were exposed, and when Mr. Giordano was adjusting the towel Cpl. Craig Medley observed his genitals through the window.
"Cpl. Medley told Mr. Giordano to put his clothing on and exit the vehicle. As Mr. Giordano was putting his tan shorts on, Cpl. Medley could see that Mr. Giordano was completely nude."
MORE ON:
Celebrity Justice
Both Giordano and Bock, 45, were arrested at the scene and charged with one count each of indecent exposure.
If found guilty, Giordano faces up to three years in prison and/or $1,000 fine.
In an e-mail statement to RadarOnline.com, Chief Michael Pristoop of the Annapolis Police Department said, "while we recognize that Mr. Giordano enjoys an infamous reputation, the Annapolis arrest was simply a matter of effective police work in response to citizen complaints.
Article continues below advertisement
"Officers took quick and appropriate action under the circumstances. Indecent exposure and other offensive conduct are intolerable, and the Annapolis Police Department will enforce the law."
The businessman has had a number of prior brushes with the law. Back in 2003, he was convicted for his involvement in an organized retail theft operation in Maryland after going on stealing sprees in Target stores. Giordano was eventually convicted of his crimes, but got away with a suspended sentence.
Last month, RadarOnline.com gave exclusive insight into his bizarre past behavior by obtaining a photo of Giordano wearing long furry ears with a fake nose and heavy framed glasses, like a warped jackalope, a folklore animal that is a jack rabbit with antelope horns.
Several of Gary's ex-girlfriends claim that he used to dress up in the creepy outfit and hide in the woods, while demanding details on their every move.