Exclusive
Aruba Murder Suspect Gary Giordano 'Acts Drunk And Obnoxious' In Robyn Gardner's Local Bar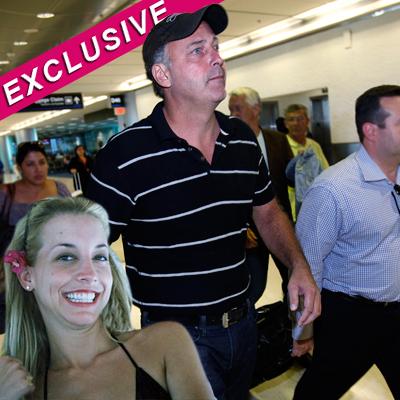 Article continues below advertisement
The 50-year-old has repeatedly been spotted boozing with friends at Clyde's in Rockville, Maryland, during the past few weeks and after a drunken night on Monday, he is not welcome back there due to his bad behavior.
"He is not well liked, the customers are usually uncomfortable when he is there, and they all know who he is," reveled Robyn Gardner's longtime boyfriend Richard Forester to RadarOnline.com in an exclusive interview.
As RadarOnline.com previously reported, Giordano was released from an Aruban prison in November after spending nearly four months behind bars. Aurban authorities considered him to be the prime suspect in 35-year-old Gardner's murder, but failed to find enough evidence to charge him.
The couple, who met on an adult dating site, went on a last minute vacation to the Caribbean island which ended in tragedy when Robyn allegedly vanished while snorkeling after sending bizarre messages to Forester on Facebook.
Article continues below advertisement
During the 18 months that Richard and Robyn dated, the couple went to Clyde's every Sunday, and he finally plucked up the courage to go back on Wednesday, only to find out that Gary has turned it into his regular hangout.
"He'd been in there on Monday and had some words with someone at the bar, and was getting loud and obnoxious. I can only assume he had been drinking a lot," revealed Forester.
"I was told that the next time he goes in the manager will tell him that he's not welcome and can't come back. They had been putting up with him for awhile and figured if they gave him enough rope then he'd hang himself, which he did."
Forester went on to explain that it wasn't just the fellow customers who Giordano was falling out with at Clyde's.
"None of the bartenders like him so they don't sit and chat with him, he is very disliked in this part of the country as a whole.
"One staff member said Gary is very cavalier, arrogant and loud when he's there, and is always with a group of people. He would even talk about his time in prison to people but never once mentioned Robyn, or showed any remorse about what happened to her."
Article continues below advertisement
Despite living just a few miles from his nemesis, Richard has yet to bump into Gary, and told RadarOnline.com he won't act rashly if he does.
"I want to make him feel extremely uncomfortable and maybe send him a drink, but I wouldn't do anything stupid," he said, adding solemnly. "It's a very small world we live in."
As for Richard, after fighting to keep Robyn's memory alive for the past six months, he is not giving up hope of her being found alive but understands that he must get on with his own life too.