Exclusive
Khloe Kardashian Planning Romantic Getaway With Hubby Lamar Odom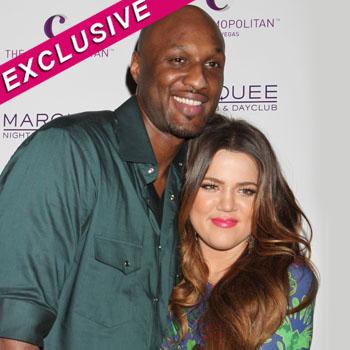 Khloe Kardashian is planning a romantic getaway for her husband, Lamar Odom, after he announced that he would no longer be playing basketball for the Dallas Mavericks, RadarOnline.com is exclusively reporting.
The E! reality star wants to "whisk Lamar away from the spotlight for some much needed rest and relaxation. Lamar has been in a funk ever since the Lakers traded him, and she thinks a romantic rendezvous is exactly what they both need right now," a source close to the couple tells RadarOnline.com.
Article continues below advertisement
"Khloe is absolutely devoted to Lamar and loves him so much. She has said she will move with him if another NBA team signs him during the off season. It's just so hard for Khloe to see Lamar so depressed."
Even though Khloe embraced the move to Dallas, Lamar never found his footing with the Mavericks.
"Lamar hasn't gotten over being traded from the Lakers, and he has been depressed and moody ever since it happened. Lamar felt that he was ripped away from his Laker family with no warning or notice. He couldn't fathom the fact that the Lakers traded him after all of his years with the team," a source close to the couple tells RadarOnline.com.
"Khloe has been extremely supportive of Lamar, but she is growing increasingly concerned for her husband because she has never seen him like this before."
Lamar gave a statement to ESPN on Monday morning stating the split was mutual, but insiders tell us it was the Mavericks who gave Lamar the pink slip because he was "too much drama" and gave "inconsistent effort" on the court.
"The Mavericks and I have mutually agreed that it's in the best interest of both parties for me to step away from the team," Lamar said. "I'm sorry that things didn't work out better for both of us, but I wish the Mavs' organization, my teammates and Dallas fans nothing but continued success in the defense of their championship."
Article continues below advertisement
"The decision was made by the team owner Mark Cuban after Lamar did not play in the second half of a game against Memphis," a source close to the situation told RadarOnline.com.
"The team was upset by his inconsistent effort on the court and was concerned about how his demeanor could impact the team's younger players."
Lamar, 32, easily had the worst season of his career in Big D, averaging a paltry 6.6 points-per-game and 4.2 rebounds-per-game in 50 games with the league's reigning champs. After a phenomenal year in 2010-2011, he was clearly disheartened after the Los Angeles Lakers dealt him twice over the off-season.