Divorce Drama! Hollywood's Heartbreak Homes: Take A Peek Inside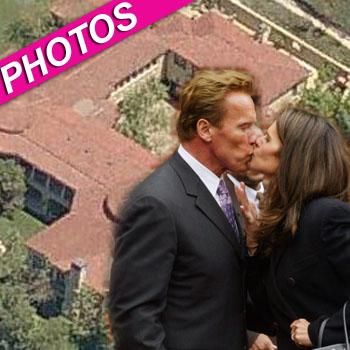 By Debbie Emery - RadarOnline.com Reporter
Along with dividing the children, the bank accounts and the pets, divorce inevitably means dissolving the family home.
The bigger the fortune, the bigger the real estate fallout, and RadarOnline.com has photos inside some of the homes being fought over in Hollywood's most acrimonious break ups, courtesy of our friends at Zillow.com.
Heidi Klum and Seal shocked both fans and celebrity divorce pundits alike last week when they announced they were ending their seven year marriage. At the crux of the property battle is a 12,300-sq foot Mediterranean mansion in L.A.'s Brentwood Country Estates which they picked up in foreclosure in 2010 for $14.2 million.
Article continues below advertisement
With 8 bedrooms, 9.5 bathrooms, a cigar room, domed library, wine room and a decadent outdoor entertaining area with a pool, spa, rolling lawns and Italian rose gardens on an 8.5 acre estate, it is certainly worth fighting for in court.
Demi Moore and Ashton Kutcher's marital home was reportedly the scene of one of the Two And A Half Men star's extra-marital dalliances, so it will be no surprise if the Beverly Hills mansion is a subject of discontent in their potential $290 million divorce.
Kutcher appears to want a fresh start in all ways and has listed his other property, a Brentwood bachelor pad, on the market for $2.6 million. The 4 bedroom and 4.5 bathroom modern house is perfect for any aspiring playboy, with an infinity-edge spa, pool and waterfall for outdoor entertaining, and a wine tower with room to store 200 bottles.
Katy Perry and Russell Brand's rocky marriage barely lasted past their first wedding anniversary, and 14 months after they said "I do," Russell was packing his bags and leaving the Los Angeles love nest. The eclectic pair first lived in a Loz Feliz home that the British actor bought for his songstress, which they sold for $3.3 million a few months later and traded up to a enormous 7-bedroom, 9-bath home in the Hollywood Hills, where Perry is still reportedly living.
Article continues below advertisement
Jennifer Lopez and Marc Anthony's private lives were catapulted into the public eye when they announced they were calling it quits on their marriage last year, and now their three real estate investments are up for grabs. Owning a house in Hidden Hills, California, and two in Glen Head, New York, their lawyers will have a fine time dividing up their ample assets.
Before divorcing, beautiful couple Scarlett Johansson and Ryan Reynolds boasted an equally beautiful home in Los Feliz, which they bought in 2010 for $2.9 million. Dubbed the 'Wong House,' the mid-century 2-bed, 3-bath home features features walls of glass and patios with views of downtown L.A.
Los Angeles Lakers star Kobe Bryant kept his wife Vanessa in the lap of luxury, but everything changed when she filed for divorce last December amid long term rumors of infidelity. Lucky for the NBA player's soon-to-be ex-wife, all three of the couple's Newport Beach, California homes have been transferred into her name, including a $4.6 million estate in the gated Pelican Ridge community, a $2.65 million house in the same complex, and a $9.54 million mansion with ocean views.
Article continues below advertisement