Flash Back To Cheating Ashton Kutcher's First Mistress, Brittney Jones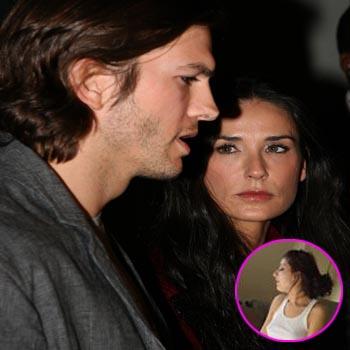 Ashton Kutcher's recent sex scandal in San Diego with Sara Leal was the final blow to his six year marriage, but as Star magazine was the first to reveal, it was not the first time he had been caught cheating.
As Star exclusively revealed, Brittney Jones had a salacious, short-lived affair with the married man last year and is now speaking out about their sexual escapades.
Brittney met Ashton in July 2010 at the Lucky Strike Lanes in Hollywood, when he was bowling with wife, Demi Moore, and the Two and a Half Men star was instantly infatuated with the pretty brunette.
Article continues below advertisement
"He kept coming back to me," Brittney, then 21, who was sitting near Demi and Ashton at a cocktail table in the trendy bowling alley, told Star. "A few times Demi came up to talk to Ashton, but she completely ignored me."
At the end of the night, Jones slipped Kutcher a cocktail napkin with her number on it, and as Star reported, the two met up on July 27 and had sex on the couch at the Beverly Hills home he shared with Demi, while she was out of town filming LOL: Laughing Out Loud.
"He was very gentle when he kissed my body," reveals Brittney. "I really liked it a lot, and the chemistry was strong."
While Jones hoped she could carry on seeing the actor, Ashton soon nipped their short-lived affair in the bud, but not before telling her that he and Demi often picked up girls together.
"He explained that he and Demi had a deal where they had to share lovers. He felt bad that he had been with me and didn't share," said Brittney.
Article continues below advertisement
Now that Demi, 49, has gotten tired of Ashton's philandering, Brittney has reportedly said she feels she is finally vindicated.
"For so long people have thought that I was dishonest or just making up my passionate night with Ashton, when in fact I was being used.
"Ashton told me that both he and Demi had an 'open relationship' and that he was not in fact cheating. Now I can tell all the facts about how Ashton really was, and hopefully people will believe my side of the story," she revealed.
As RadarOnline.com previously reported, Demi filed for divorce on Thursday.
"It is with great sadness and a heavy heart that I have decided to end my six-year marriage to Ashton. As a woman, a mother and a wife there are certain values and vows that I hold sacred, and it is in this spirit that I have chosen to move forward with my life.
"This is a trying time for me and my family, and so I would ask for the same compassion and privacy that you would give to anyone going through a similar situation," Moore said in a statement to the AP.