Exclusive
Demi Moore And Ashton Kutcher Loved To Have Threesomes, Says Source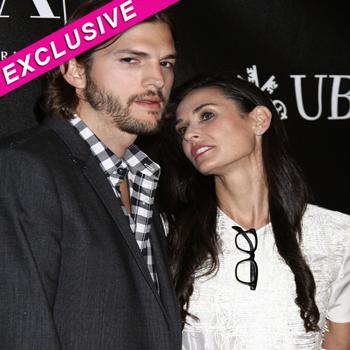 By Alexis Tereszcuk - Radar Senior Reporter
Demi Moore's decision to pull the plug on her six year marriage to Ashton Kutcher didn't come as a surprise to those close to the couple, who say that the sexual freedom they had contributed to their split, RadarOnline.com is exclusively reporting.
"They would have threesomes," a source close to Demi and Ashton exclusively told RadarOnline.com.  "Demi liked women and Ashton would bring another woman into their relationship for flings, but they both agreed to it."
Article continues below advertisement
When Ashton's latest very public and humiliating fling with San Diego party girl, Sara Leal became public, that is when Demi decided that she had had enough with her husband.
"If he wanted to do anything as long as she knew about it she was fine," the source said.  "It was the sneaky ones when he got caught that infuriated Demi."
As RadarOnline.com previously reported, Star magazine revealed that Demi and Ashton's "open marriage" was much more twisted than anyone imagined.
"Demi is attracted to women just as much as men, so she didn't always get all she needed from Ashton," a source said. 
"That's why she didn't mind having women in the relationship as long as she was involved."
However, when Ashton strayed from the rules, Demi finally decided to take matters into her own hands and end the marriage, announcing Thursday that she was going to divorce her philandering husband.
Article continues below advertisement
"It is with great sadness and a heavy heart that I have decided to end my six-year marriage to Ashton. As a woman, a mother and a wife there are certain values and vows that I hold sacred, and it is in this spirit that I have chosen to move forward with my life," Demi said.
Meanwhile, in true Ashton form, he took to social networking to express his feelings, tweeting, "I will forever cherish the time I spent with Demi. Marriage is one of the most difficult things in the world and unfortunately sometimes they fail. Love and Light, AK."