From Ashton Kutcher To Ellen Degeneres: The Year In Real Estate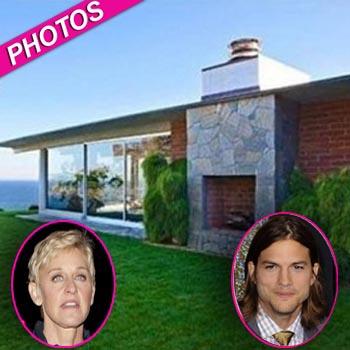 Seems celebrities don't let a little thing like a global recession and a housing slump get in their way of splurging on posh pads. RadarOnline.com has a run-down of the winners and losers in the 2011 real estate world, courtesy of our friends at Zillow.com.
Charlize Theron: The 36-year-old South African sold her beachfront Malibu home -- tabbed as the "oldest home on La Costa Beach" in May for $6,562,500, a tremendous success when you consider 1) the down real estate market due to the economy; and 2) she paid $3,495,000 for it seven years earlier.
Article continues below advertisement
Ashton Kutcher: It's been a whirlwind year on both personal and professional fronts for the hunky Two and A Half Men star, including on the real estate front. The That 70s Show alum put his customized Beverly Glen home on the market for $2.6 million in February, and sold it for $2.35 million in May. Of course, in the wake of his split from Demi Moore, he probably wishes he held onto it just a little longer.
Christina Aguilera: The Genie In A Bottle singer tried to sell two lavish homes this year, but only one of them moved like Jagger. While her garish $13 million Beverly Hills mansion (once owned by Ozzy and Sharon Osbourne) still has yet to sell (she put it up for sale in March), she had better luck with her home in the Hollywood Hills, which she was able to offload.
Jennifer Aniston: The super-mansion estate in Trousdale Estates neighborhood of Beverly Hills that Friends built -- called "Ohana" -- is on the market for a cool $42 million. After putting it on the market in March, Aniston moved back to her native New York, buying two separate apartments in a building in Manhattan's West Village. Word has it she might be looking for a new place to share with her beau, actor Justin Theroux.
Article continues below advertisement
Charlie Sheen: It was a tumultuous year, to say the least, for the MaSheen. Losing his mega-million dollar gig on Two and a Half Men after a series of very public meltdowns, the 46-year-old actor kept himself busy with his real estate transactions. First up he listed his Sherman Oaks home for $7.2 million, then in March he paid a cool $6,999,999 for a new mansion in the gated community of Mullholland Estates. Winning!
Katherine Hepburn: Although it isn't On Golden Pond, the late actress' Connecticut estate does have a private beach and dock, as well as a 8,300-square-foot home. The stunning property hit the Fenwick real estate market, priced at $18 million, in June. Along with the pricey property you also get a little history, with the tale of Hepburn vowing to rebuild the home after it suffered damage in the 1938 Great New England Hurricane.
Article continues below advertisement
Elizabeth Taylor: Two months after the screen legend passed away in March her luxurious ranch hit the market, listed for $8.6 million. It was sold within two months, for $8 million, to an anonymous buyer rumored to be in the manufacturing business.
Matthew Perry: The former Friends star proved to be 2011 reigning king of real estate — buying one property and listing THREE for sale! In August, Perry bought a new home on the Sunset Strip that was once owned by music legend Elton John. The same month he listed his West Hollywood apartment, then in October he listed his beachfront home in Malibu and in November he listed his main Los Angeles residence.
Ryan Reynolds: Before becoming a Hollywood A-lister, the bachelor actor lived in a comparatively modest Hollywood Hills home that he purchased for $1,175,000. After getting hitched to Scarlett Johansson, Reynolds tried to offload the property, but had no bites. In September he re-listed the 2-bedroom, 2.5-bathroom home for a bargain $1.599 million.
Donald Trump: The Donald was feeling the real estate pinch this year. The property tycoon took a whopping hit on his Rancho Palos Verdes custom built home. Trump originally purchased the 11,000 square-foot home in the mid-90s, he listed it for $12 million in October but eventually sold it for $7.15 million.
Article continues below advertisement
Bruce Willis: The actor listed his custom-built Sun Valley, Idaho mansion for sale at $15 million in November. As well as stunning views, Willis' home has 8,400-square-feet of living space, a pool with spa and water swings, as well as a separate guesthouse and gym.
Ellen DeGeneres: The talk show host and her actress wife, Portia de Rossi, appear to be downsizing! The couple has listed their enormous, custom built home for $49 million, and purchased Brad Pitt's modern 4-bedroom, 4-bathroom Malibu home for a paltry $12 million. The Moneyball star bought the 4,088 square-foot home on the Encinal Bluffs in Malibu soon after his divorce from Jennifer Aniston, but his rapidly-expanding family with Angelina Jolie quickly outgrew the property.