R. Kelly Puts Mansion Up For Short Sale After Skipping Mortgage Payments: Take A Peek Inside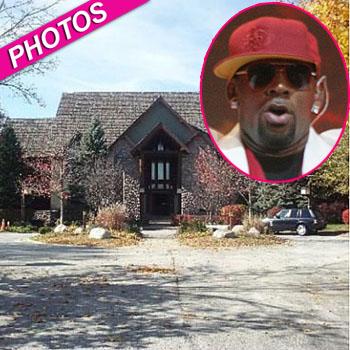 By Debbie Emery - Radar Reporter
R. Kelly has proved that even a Grammy award winner can have trouble with his mortgage, and after not making his payments for more than a year he has listed his Chicago mansion as a short sale for $1.595 million.
As larger than life as its owner, the 16-room, six-bedroom, eight bathroom home boasts four fireplaces, an indoor pool and a theater room, and RadarOnline.com can take you inside, courtesy of our friends at Zillow.com.
Article continues below advertisement
Outside the palatial home, private wooded land and a lake are protected from prying eyes by a 12-foot wrought iron and concrete-encased fencing.
The R&B singer bought the mega-mansion in 1997 and the estate became the subject of a $2.9 million foreclosure lawsuit last summer when he failed to meet his payments for more than a year, which was rumored to be a tactical move to make his lender renegotiate his loan.
According to Zillow.com, R. Kelly's original loan was issued in 1999 for $3.5 million, but due to dropping home values it is now worth less than he owes.
Kelly hasn't even lived in the house for the past year and instead has been staying in a high level apartment in downtown Chicago's swanky Trump Tower.
At more than a million less than what the 44-year-old singer paid, Real estate agent James Mattz of Century 21 Pro-Team told the Chicago Tribune that the lucky buyer will be getting a steal, especially when they see the opulent indoor pool.
Article continues below advertisement
"You'd think you were in the jungles of the Amazon. It's not a pool room, it's a tropical experience," said Mattz.
Kelly sold his other Chicago-area home last August, which was the location of the infamous incident where he was accused of making a sex tape with an underage girl. The Bump n' Grind singer denied it was him on the 2002 tape and was acquitted of the charges six years later.
RELATED STORIES: